In the professional world, how workers present themselves is crucial too their success. No matter what field they're entering into, people spend thousands of dollars on education, many years gaining experience, and even more money on certifications.
In the construction industry, the form of proof that builders work toward is gaining a state-approved license to practice as a contractor. However, not every contractor is licensed. That doesn't mean that an unlicensed contractor can't do the job; it just means they may encounter legal and safety issues down the road.
You can find an unlicensed contractor to do the work and pay a lot less for their services, but what is peace of mind worth that the job will be done correctly? Before we dive into all the reasons hiring a licensed contractor is the right choice, let's look at precisely what a licensed contractor is.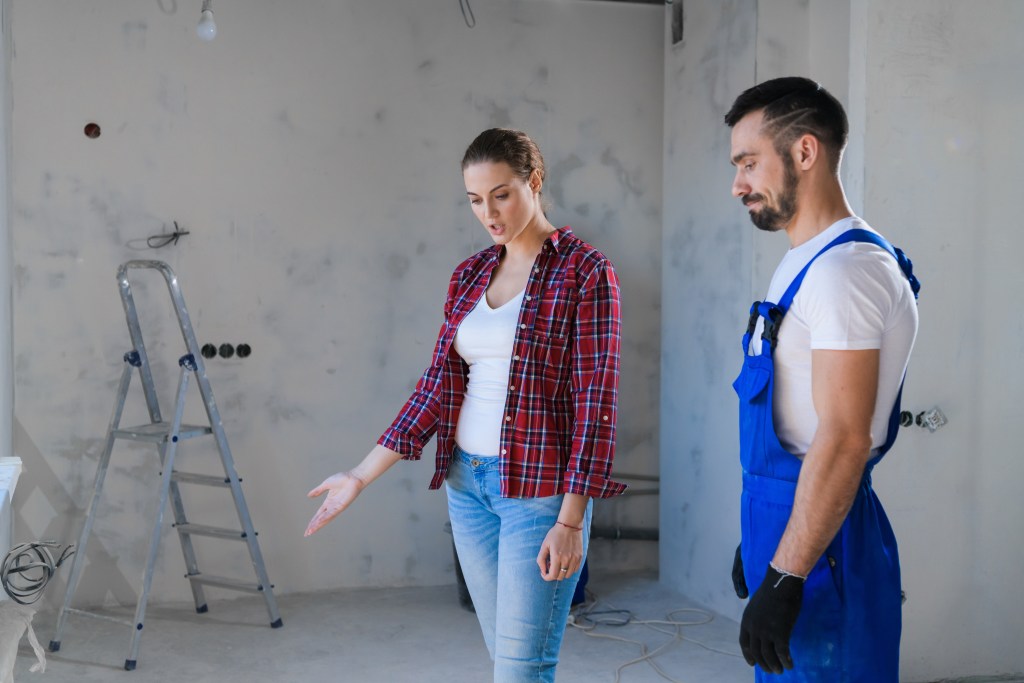 What is a licensed contractor?
Although the laws vary from state to state, most states require a contractor to be licensed if contracted to do residential construction or remodeling that costs over a certain amount. There are several licenses a contractor can obtain, which determine the type of work they're allowed to perform. Let's look at those licenses now.
General building contractor license
Contractors can obtain a general building contractor license by completing a 60-hour course and passing an exam. The prerequisites for becoming a contractor vary from state to state. Once licensed, these contractors are referred to as general contractors. This license allows for basic demolition, construction, or repairs.
Most commonly, general contractors are hired to oversee a building project, who then hire subcontractors to complete the construction. Suppose a general contractor wants to complete work themselves without hiring others. In that case, they must also obtain either subcontractor building licenses or residential maintenance and alteration licenses, which we'll discuss later.
Subcontractor building license
A subcontractor building license is a trade-specific license a contractor must have to perform specific work. HVAC, plumbing, and electrical work all require a subcontractor license in each particular trade.
Residential maintenance and alteration contracting license
Also referred to as M&A contracting licenses, these are granted for specialty work. The contractor can only perform the work that they are licensed to do. Still, one contractor can hold several licenses as long as they go through the proper channels. Here are some examples of M&A contractor licenses:
Masonry
Roofing
Concrete
Siding installation
Excavation
Painting and decorative work
Carpentry
Tile work
Insulation installation and removal
Screen and storm sash repair and construction
Demolition
Gutters
Basement waterproofing
General engineering contractor license
A general engineering contractor license is required for large-scale projects related to commercial or municipal construction. General engineering contracting licenses can cover construction areas, such as irrigation, water power, dams, railroads, highways, roads, airports, sewers, and much more, depending on the area of expertise.
Licensed vs. unlicensed contractor: What to know
We believe that entrusting your construction to a licensed professional contractor is the only way to go. There are many disadvantages to hiring an unlicensed contractor, which we'll cover. However, this is one advantage.
The advantage of hiring an unlicensed contractor is that you'll almost always pay less for their work. That's because they have less overhead since they don't have to pay the fees for maintaining a license and insurance. However, if they perform work that doesn't hold up and creates more problems down the road, those savings are all for nothing. Let's discuss the advantages of hiring a licensed contractor.
Safety
A licensed contractor delivers the most value by ensuring that your home is built safely, per state and city codes. A licensed contractor knows what to do to prevent unsafe working conditions and what to do in an emergency.
Unlicensed contractors are unable to pull building permits for construction and repairs in most cities. Building permits require an inspection after work is completed to ensure it was done correctly. These permits are essential for safe construction and map out what work has been done to a home over time.
Liability
Not only is a licensed contractor liable for the work they perform, but the safety of their workers. A licensed contractor can obtain insurance to cover their employees, subcontractors, and property owners in the event of a workplace injury. Since an unlicensed contractor can't get this insurance, the property owner is liable for worker's compensation payments if a worker is injured on the job site.
Unlicensed contractors are also unable to provide surety bonds. Surety bonds are contracts between the contractor, owner, and a third party (usually a bank). These contracts cover any unfinished work if the contractor can't or refuses to complete the project. They also cover payments for labor and materials to subcontractors if the contractor doesn't pay.
Consumer protection
Licensed contractors aren't just tested on their construction know-how when they take the licensing exam. They also have to prove their business knowledge from both an operational and ethical standpoint. This is a final safeguard put in place by states to ensure contractors operate ethically and fairly.
Closing thoughts
There are many reasons why it's essential to hire a licensed contractor when renovating or constructing a home or business. The main reasons are safety, liability, and consumer protection, but there are many more reasons beyond that.
Editors' Recommendations