Tools are essential items needed for any construction project around the home. The tools you need are vital when replacing roof shingles. Since you're doing repairs on the roof, you want to ensure you have the right equipment for the job.
You may have some of these tools on hand. However, if you don't, purchasing them ahead of time will speed up the prep process to complete your roof repair. Having all the roofing tools ahead of time will also ensure you get the job done with ease. Let's review some of the best roofing tools that are critical for repairing roofs.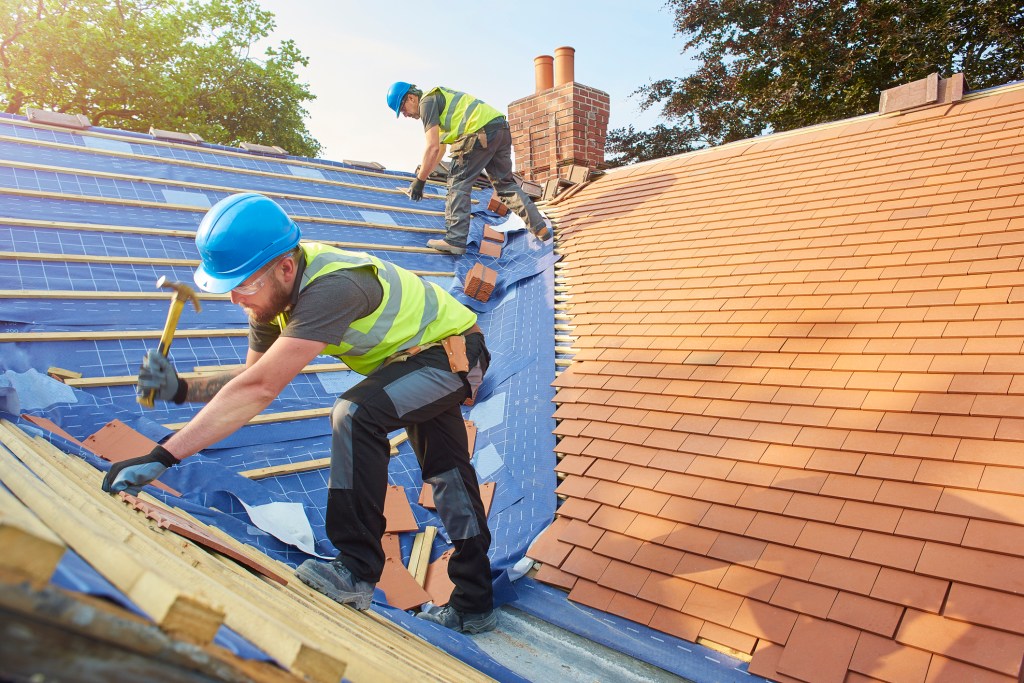 Ladders designed for roofs
Although it's technically not a tool, a ladder is necessary in order to access a roof to conduct repairs or replacements. You'll need to acquire a ladder designed specifically for roofs. A roofing ladder isn't to be confused with an everyday step ladder, and it's a ladder designed with an extension that's specific for use on roofs.
These types of ladders securely attach to sloped roofs, allowing you to work at an angle safely. Additionally, these roof ladders can reach up to 26 feet and hold up to 300 pounds while being lightweight and easy to move.
Cordless drill
A cordless electric drill is a must-have hand tool for carrying out most repairs, not just as a roofing tool. Cordless drills are great roofing tools, as they allow mobile ease of access to drill or drive screws quickly and accurately into different surfaces. More importantly, a cordless electric drill can drive screws through many building materials such as wood, metal, and plastic.
Nail gun
If your roofing job requires nails instead of screws, opt for a roofing nail gun. If you want to get your project done quicker, a nail gun is a quality roofing tool to get those nails through the roofing materials with ease. There are also cordless nail guns that feature a sequential firing mechanism that allows nails to drive safely and precisely into the roof.
When using a cordless nail gun, its lightweight design also reduces fatigue even after long periods of use. A battery-powered nail gun also means you don't need a separate air compressor or gas cartridge to fuel the tool.
Roofing shovel
One tool that you want to have on hand for any roofing task is a roofing shovel. Roofing shovels are specifically designed to tear off old shingles quickly and easily. Whether you're replacing a large part of your roof or fixing a problem area underneath the shingles, this roofing tool is a must to get the job done successfully. Most roofing shovels are compact, lightweight, and comfortable to use with metal teeth that can easily grab onto nails, fiberglass, or asphalt shingles that require removal.
Pry bar
When removing old nails that need replacing, a handy tool you'll need is a pry bar. To aim for a more ergonomic roofing tool, seek out a pry bar with a sharp claw that accurately removes nails without damaging the area surrounding it.
Other types of pry bars include a side featuring a precision thin claw for harder-to-reach areas. You can use this roofing tool to remove smaller sections of shingles. This type of pry bar also features a nonslip cushion grip that allows you to work quickly and comfortably.
Caulking gun
Another standard roofing tool is a caulking gun for dispensing sealants. When you need to fill in gaps or attach different surfaces together, use a caulking gun that works quickly while accurately applying the sealant.
There are many varieties of caulking guns to choose from, such as manual, cordless electric, or pneumatic caulking guns. Also, battery-powered options have five-speed settings for easy yet powerful dispensing of sealants.
The battery-operated versions are faster than the manual ones and don't require an air compressor like the pneumatic versions. The high-tech devices also prevent battery overloading, over-discharging of sealant, and overheating.
Essential roofing tools for roof repairs
Whether you're replacing an entire roof on your home or repairing a portion of the roof, using quality tools is key to effectively completing the task. Choosing the right roofing tools and planning ahead will save you time. It's also imperative you keep safety in mind when attempting any roofing construction project. Have all these roofing tools on hand and you'll get the job done quickly and efficiently.
Editors' Recommendations