Whether you have a professional office or a cozy home, there can always be a need for a scanner. Choosing the right one depends on how you plan to use it. Handheld document scanners have their benefits, but are they as good as flatbed scanners? That is what we are going to find out. Scanning documents is something that happens in practically every office.
Scanning provides an electronic backup for important files that can be easily lost. Handheld and flatbed scanners both get the job done, but one may be more efficient than the other, depending on your needs.
Pros of handheld document scanners
Handheld scanners are smaller, portable versions of their flatbed cousins. Like a flatbed scanner, they scan documents, drawings, and other flat media, turning them into electronic files you can store, edit, or email. The handheld scanner is a great little device that you can pack in a backpack or briefcase.

Handheld scanners are bar-shaped electronic devices that digitally capture and store images. These scanners run on batteries and can be set to different scan modes. They display the amount of space available for scanned documents. They're great for mobile professionals who travel a great deal of their time.

They are small and portable: Handheld document scanners are perfect if traveling is a large part of your job. If you have memos, documents, files, or anything else that you need to store or send, a quick scan will do the job.

They are affordable: Handheld scanners are much more affordable than flatbed scanners. Their small size and simple technology allow for low pricing.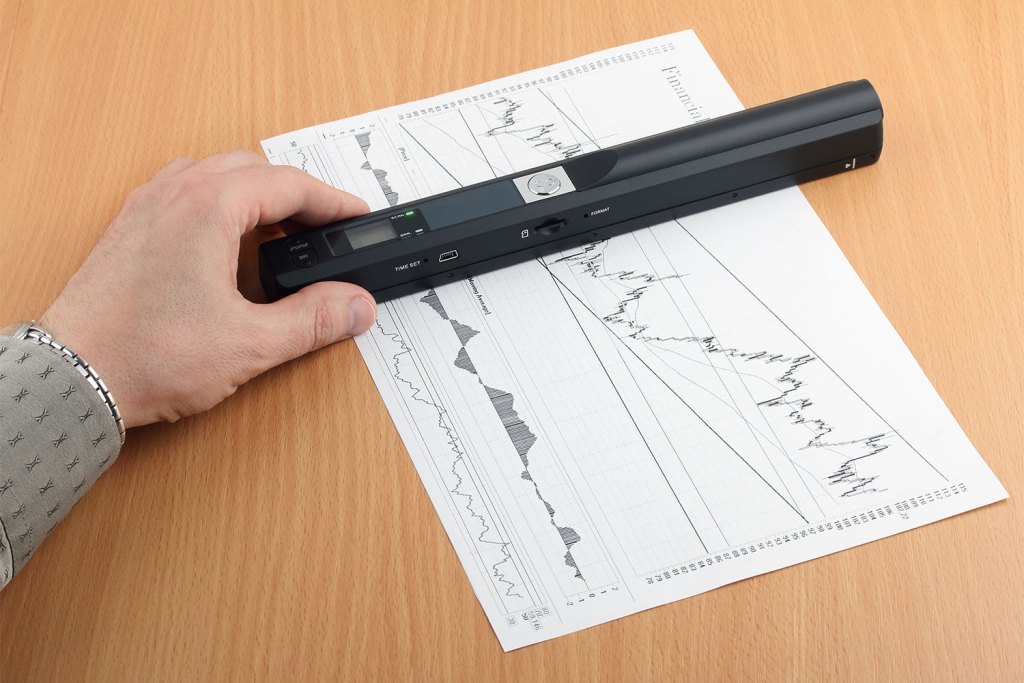 Cons of handheld document scanners
They can be hard to use: Since the scanner is handheld, the image quality is fully dependent on the steadiness of your hand. A little shake or uneven scan can cause wonky results that are far less than perfect. They are much less stable than their flatbed counterparts and require some practice.

They require batteries: Even though this may not seem like a huge deal, they do require batteries. While batteries are common and easy-to-find items these days, it is still something that can be a pain when your scanner dies last minute. If you don't have any batteries on hand, going out to get some can be inconvenient.

They're not hands-free: This is not a task where you can just get it started and then leave it to go make yourself a quick cup of coffee. You are fully involved in the scanning process.
Pros of flatbed scanners
Flatbed scanners let you scan a variety of documents, as well as any item that can lay flat on the scanner's surface. Large flatbed scanners are perfect for delicate or uneven documents. Documents of any thickness can be scanned on the bed of the device. These scanners are sturdy and perfect for offices.

There's no movement: Since the document lies flat on the flatbed scanner, there is no risk of it getting caught in rollers. It also prevents any shakiness in the final product scan.

They're speedy and productive: These scanners can scan up to 27 pages per minute. The pages per minute output varies based on the model type of the scanner, but they are significantly faster than handheld scanners.

They produce high-quality scans: Since these scanners are sturdy and remain in place, the quality of the scan is very high. There is no shaking or movement that could affect the quality of the scan.
Cons of flatbed scanners
They can be expensive: Flatbed scanners have a lot of great features, but that comes at a cost. These scanners are significantly more expensive than handheld scanners.

They are not portable: Since flatbed scanners are so big and bulky, they typically remain in one place. They come in handy for office settings but can't be transported with ease, unlike a handheld scanner.
Best portable scanners
According to Wirecutter, they have "spent more than 130 hours researching and testing portable document scanners since 2013, and after their latest round of testing, they're convinced that the Brother ADS-1250W provides the best balance of usability, performance, and portability you can find. It accurately recognizes text, produces good-looking results, works wirelessly with computers and mobile devices alike, and scans quickly."
This 11.7-by-3.9-by-3.4-inch portable scanner comes in white and can practically do it all for $229.99. Scan single- and double-sided documents in a single pass. It allows for a USB connection, too.
All in all, a handheld document scanner is perfect for professionals on the go. They're lightweight, small, and affordable. They have their disadvantages when it comes to quality and ease of scanning, however. If you are looking for something for your home or office, a flatbed scanner is the way to go. They provide stability and durability and can help you make beautiful scans with ease. Neither option is necessarily better; it just depends on which scanner meets your needs the best.
Editors' Recommendations