Workwear tends to be overlooked. Most companies – even the most popular ones – offer thicker material and call it "durable." Brunt takes a different approach.
Rather than make heavy-duty clothing, Brunt puts thought and effort behind its product. The question is whether those products are better than the competition.
We were able to give Brunt's boots and pants a try. Read on for our review.
What we tested
A mid-rise boot "combining a classic time-honored look and high-quality durable construction." It has a composite "nano toe" protecting your toes from just about anything. (Yes, we tested it.)
It's slip-resistant, oil-resistant, waterproof, and resists electrical hazards with its rubber-skinned sole.
Work pants with a true fit and lots of bells and whistles. Brunt says the pants are adverse to abrasions, stretchy, water repellant, and do well with keeping you protected in high-wind conditions.
Our testing
The Marin
The big question mark for us was The Marin's composite toe construction. A steel toe boot is more normal; Brunt says The Marin's composite has "fewer drawbacks than steel." They do not elaborate on that.
The Marin is ASTM F2413-18 certified, which is defined by American National Standards Institute as:
minimum guidelines for the performance of footwear to provide protection against numerous workplace dangers that may result in injury. It is not intended to serve as manufacturing or purchasing specification. However, it can be referenced in purchase contracts to assist with assuring that minimum performance guidelines are met.

ASTM F2413-18 contains guidelines to evaluate footwear for its performance in impact resistance of the toe area, compression resistance, and metatarsal protection, among many other important topics.
Compared to a steel-toe boot, The Marin is far lighter, which shows up after a long day of wear. The weight difference is not noticeable if you pick a steel toe or composite toe boot up, but we noticed far less fatigue at the end of the day with The Marin.
Brunt's claims all hold true. It's absolutely waterproof in normal conditions. Unless you go swimming, your feet aren't getting wet in The Marin.
Where we decided to stress-test The Marin was toe protection. We attempted to simulate real-world scenarios where toe box protection may be critical. We smashed The Marin with a hammer and dropped a cinder block from knee height onto the boot. The composite toe box held up. (We're not going to advise you to try our testing at home, especially not with your foot in the boot. Be safe, please.)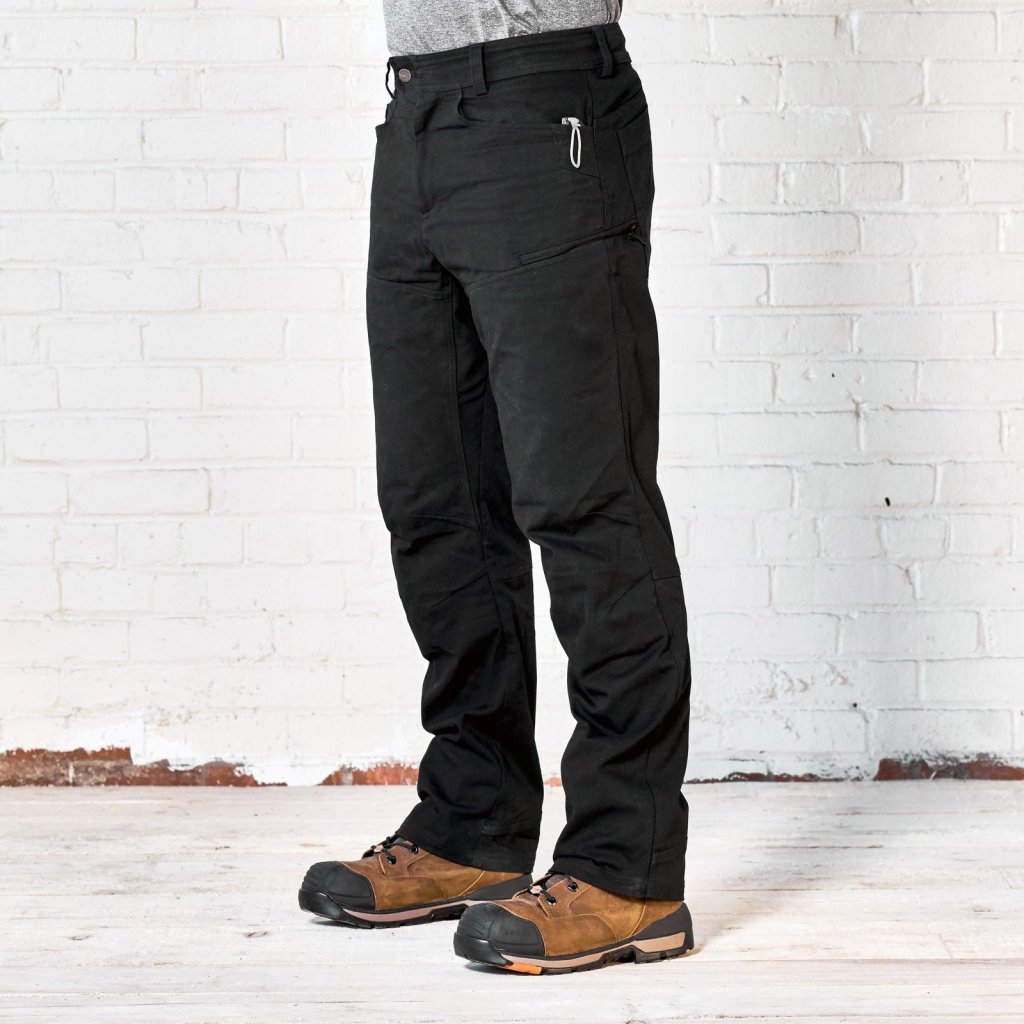 The Martin
Brunt includes a leaflet with The Martin highlighting its myriad features. The list is dizzying: reinforced belt loops, offset shank button, abrasion-resistant material, self-sealing zippered pocket, reinforced knife clips, self-sealing open pocket, slanted back pocket, reinforced kick-plates wrapped back to front, and articulated knees with a hidden double layer.
See what we mean? The question we had was if Brunt overthought pants that would be worse for wear (pun intended) after use.
The answer was definitive. The Martin surprised us in all the best ways. Though made of thick, durable material, Brunt did an excellent job making pants that aren't stiff when you try them on the first time. We tested the pants in stormy Oregon weather and The Martin's water resistance held true. (Keep in mind they're not waterproof, but a light rain beaded up.)
Abrasion resistance is difficult to confirm, but the pants looked less worn after a wash than expected. We slid along a concrete wall to test abrasion resistance; the pants looked scuffed but were nearly good-as-new after a wash.
One area we were interested in was The Martin's articulating knee area. It extends from the mid-thing to mid-shin with an inner layer of lighter-weight material than The Martin's outer shell. There's also some clever stitching around the knee that form a sort of external knee-joint area in the pant; a true definition of "articulating."
Verdict
The Martin and The Marin are far more comfortable than we expected. We were pleasantly surprised with the tech packed into both, and have no concerns about long-term durability after our testing. It appears Brunt's smart approach to protection pays off.
The Martin comes in three colors – black, tan, and brown – and various waist/length sizes. Brunt's $89 asking price is more an investment than a purchase, but we think you'll be happy making it.
The Marin Comp Toe we tested is available in regular or wide widths and a variety of shoe sizes for $145. Brunt has various other shoes ranging from $105 to $155.