As a business owner, you may believe that it is easier to do everything yourself. Unfortunately, many business owners eventually understand that you genuinely cannot do it all yourself sometimes. Respectively, it is more cost-effective to aim to do it all yourself, but it can lead to potential burnout and overwhelm when attempting to do everything on your own.
If you wish to thrive more, delegating in business is essential to run more smoothly and efficiently. Creating a plan of action to delegating tasks out to employees is imperative. Your project plan needs to determine whether task delegation can be done employing automation to current staff or outsourced to complete these tasks. Delegating tasks out in your business does not have to be a challenge for you. In order to minimize your workload as a business owner and maximize efficiency, let's review six tips to delegate tasks that you can implement in your business today.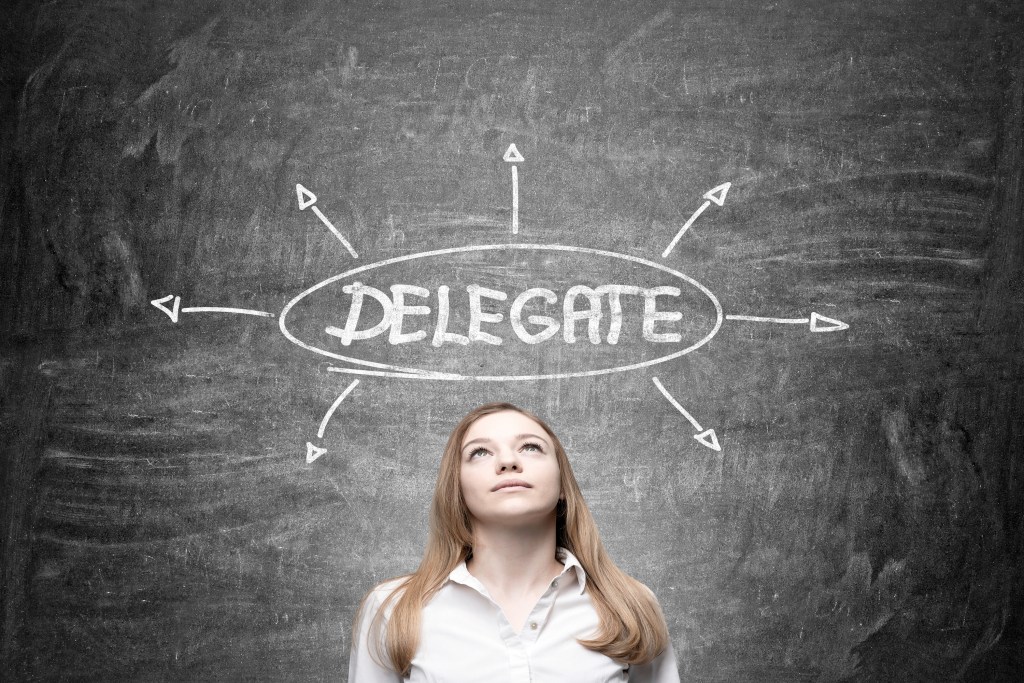 How to delegate to staff
Assess if some tasks can be automated
Technology nowadays is a beautiful entity that allows us to simplify daily tasks. Whenever you use technology for your business, you can delegate specific items that may not necessarily require another person to complete the job. Automation can help with various business processes through software programs, applications, or other digital resources. For instance, some examples of simple tasks that can be automated in your business include:
Business supplies ordering

– with the use of order subscription services

Business expense payments

– such as utilities, business loans, and business credit cards with the help of automatic payments.

Weekly/monthly financial reports

– such as weekly or monthly sales, profits, and expenses paid.

Automated business communications tools

– email reply, order/shipping confirmation emails to customers, appointment booking, and scheduled business newsletters.
Review and reflect what tasks can be delegated to staff
Aside from the tasks that can be automated for your business, you will need to review and define what tasks need staff delegation. Create a list of all of the responsibilities you do in your business. Your list should reflect both tasks daily in addition to functions required to achieve your longer-term goals. Review what tasks you conduct daily or weekly, especially more administrative tasks, and reflect on what can be assigned off your list when looking at your lists. Prioritize the list of tasks by if you still need to complete the responsibility or if it can be delegated elsewhere.
Evaluate your current staff and match tasks to them
Once you have established your tasks to delegate to employees, ensure you allow yourself to trust your employees to get the tasks done for you. From this point, you should evaluate the list of tasks that need to be delegated and match them with employees who thrive at those tasks. For example, if you have a staff member that is excellent at communicating with clients and customers, assign them more customer-facing tasks to complete. Retrospectively, the same can be done with other employees that may thrive in more administrative or hands-on related tasks. Delegating your duties to your staff that optimizes their skill set will also increase the efficiency of the task completion and process for your business.
Define objectives and goals for the tasks
With any task delegation, you will need to define the objectives and goals for each task as you delegate to employees accordingly. Concisely communicate to each team member the purpose of the project you are assigning them, their responsibilities, and the schedule of completion for the project. If applicable and necessary, train your staff on the tasks you need to delegate to them. Also, ensure you specify and quantify what you expect for milestone goals of the projects and the final outcomes.
Prioritize progress and communicate
When delegating projects and tasks to employees, you still want to prioritize and communicate completion progression. Sharing progress reports does not necessarily mean you are micromanaging, but having open communication with them on status is still important. Progress communication also affirms if projects are on schedule or if goal and completion timeline adjustments need to be made to the project. Communication also reinforces your trust in your employees and that you are available to assist and provide additional resources as necessary to further the project along to completion.
Show your appreciation and provide feedback
Your team will value you and the work they do more if you show them appreciation regularly. Also, providing constructive feedback when necessary can only help you improve as a leader, your employees improve as team members, and your business flow more seamlessly. Guarantee that you also recognize and reward employees who go above and beyond for helping complete the projects you delegate to them.
Delegating tasks to your team does not have to be overwhelming. In your business, utilizing your team to help with your projects and assignments will simplify the business process for you. Additionally, sourcing to automate more necessary tasks will facilitate more effortless flow for yourself, your team, and your business.
Editors' Recommendations