If you're thinking of starting your own carpentry business, you know that carpentry involves building, repairing, maintaining, and renovating commercial and residential buildings. In addition, there's structural and finish carpentry, with the former focusing on such things as a building's overall framework and ensuring structural integrity. In contrast, the latter may focus on increasing real estate values and restoring buildings with historical importance.
Running a woodworking or carpentry business involves using many different skills, like wood carving, woodturning, custom trim work, and reproductions. However, it's much more than knowing your way around a nail gun, a hammer, and measuring tape. It also requires solid business know-how and traits like being good with people, patience, perseverance, and being well-organized.
If you've got most of those characteristics, then you may be ready to start your own company. Therefore, if you want to see how to start a carpentry business, keep the following in mind.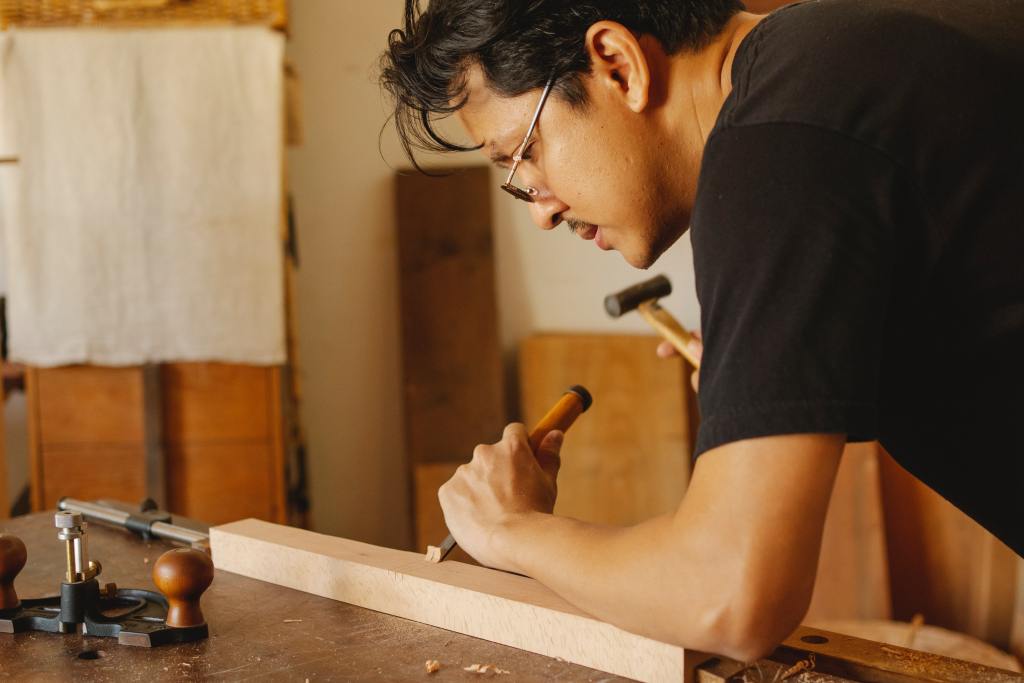 Develop a carpentry business plan
Every business needs a working business plan. Carpentry-based businesses are no exception. It should include the goals you have now for your company and also future plans. Things to also include are things like:
Estimated startup costs
Estimated operating costs
Insurance costs
There's much more to think about in this area, and you can learn more about what to include in your business plan, here. Remember that your business plan is essentially an outline or road map that lays out your goals and how you plan to get from where you are now to where you want your company to be about three years from now.
Organize everything
Running a successful business can be challenging, if not downright impossible when you're not organized. To ensure you have a higher chance of success, you need to start organizing things like customer data (if you have any), orders, and other paperwork. You'll also want to acquire tools to help you keep things organized, such as a smartphone with business apps installed like CamScanner. The app allows you to easily sign forms or email documents while on the go.
Keeping your overhead low when you're starting out is a smart move. Renting an office may not be necessary until you've grown your business sufficiently. In the meantime, having a desk that's dedicated solely to your company and keeping paperwork organized is something you should probably get.
Get the right equipment
You can't run a good carpentry business without the right equipment. If you've worked as a carpenter before, you'll likely have some of the tools you will need. However, you may be missing things that can start your carpentry company off on the right foot. Bear in mind, though, that getting everything you'll need for a complete woodworking shop can be super expensive.
If you do plan to have a woodworking shop right out of the gate, then it would be an intelligent move to estimate the total cost of all the equipment you'll need. Just be sure to include that in your business plan in case you decide to seek outside funding. At the same time, you should see what it will cost you to purchase many of these tools secondhand. You may find high-quality tools at a fraction of the cost.
In addition, consider only buying tools as you need them. In other words, if a specific job calls for the use of a particular instrument, buy it. If not, wait until an assignment demands it. You'll save a significant amount that way.
Register your carpentry company
Once you've gotten your business plan written, you've organized things, and you've decided upon the equipment you'll need, you need to make your company legal. That means you need to know your area's local and regional requirements. For example, whether you plan to operate your business part-time or full-time, you'll need to acquire the proper insurance (liability, worker's compensation, etc.) and get the proper permits and licenses.
You'll then need to know what type of legal entity to register your company as. Some options available to you are:
Sole proprietor
Limited Liability Company (LLC)
C-corporation
S-corporation
With that said, it's recommended that you get the advice of an attorney before choosing your legal business structure. Once you know which direction you plan to go on that front, you need to register your business name, the type of legal entity you want it to be, and then open up a business bank account.
Work to grow your business
Once you've registered everything and got a business bank account, it's time to hustle. You need to begin marketing and promoting your business. The first step is to let everyone know that you're in business. Write a letter to all of your family, friends, and acquaintances and let them know about the company you've launched. Don't be frightened of asking for introductions and referrals to those who might want your services.
Be sure that you have an online presence. A basic website is like yesterday's business card. Also, if you're starting local, then be sure to get a free business profile on Google My Business. Finally, network with contractors who aren't direct competitors like roofers, painters, and masons. Networking in the community can turn up a lot of business you might not otherwise obtain!