One of the most difficult parts of starting many businesses is knowing what to charge. This is definitely true for window washing, or window cleaning, as it's called in the business. After all, if you've never had your windows professionally cleaned, you have no idea how to charge for window cleaning.
Like anything else, the price of window cleaning varies from state to state and region to region. In 2021, the average price for washing a house is $258, according to Homeguide. Rixr estimates the average home window cleaning price as between $150 and $450. To get an idea of the price ranges in your area, you can use the calculators on Homeguide or Fixr. You can also try reaching out to several local businesses, describing a typical or potential job, and setting your prices in that range.
Nevertheless, here are some factors to consider as you charge for window cleaning. The main factors are number or space, difficulty, and time.
"I'd go out to the house and count windows and look at the style of windows and make a bid," said Alice Taylor, former proprietor of Alice in Windowland, a primarily residential window cleaning service.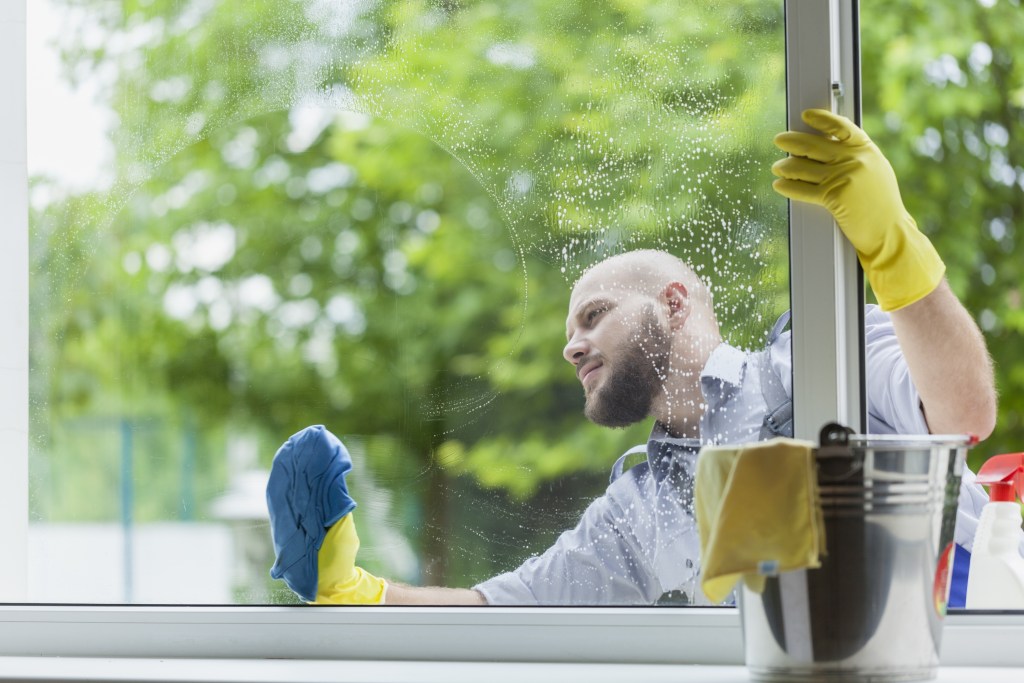 How to price window cleaning jobs
Number or space
Number or space refers to how many windows or how much square footage you are going to wash. Residential cleaners generally charge by the window, while commercial cleaners charge by square foot. Commercial cleaning can run from about $150 for a 1000 square foot shop to more than $500 per single visit to a building that's larger than 10,000 square feet.
Additionally, consider whether you will be cleaning the outside of a building, the inside surfaces, or both. This is not simply a matter of doubling for both surfaces. Cleaning the internal surfaces adds considerable costs.
Difficulty
Difficulty is just what it sounds like. Charging is not merely a matter of counting panes or measuring square footage. Note that Taylor said she looked at the style of window in giving her estimates. Small panes are more difficult to clean than large ones. Bay windows are more difficult to clean than picture windows. Some window styles are more difficult than others. For example, Taylor said that removable double-paned windows were some of the most difficult.
In addition, measures of difficulty go beyond the windows themselves. For example, cleaning the upper stories of a building is more difficult than cleaning the ground floor. Cleaning the inside surfaces could involve coming across dogs, possibly breaking fragile art and decorations, or even being accused of stealing from the client. You'll need insurance and bonding to cover these possibilities and will need to factor the costs into your pricing.
Time
For really complex jobs, it may be best to charge by the hour. This is a good solution if there's a lot of dust or if you have to use a razor blade to remove paint, bugs, tar, or other substances. A typical price is $75 per hour, according to Fixr. Factor in how much time it would take you to do a job when you give your estimate.
Repeat customers
Repeat customers can be your lifeblood, providing a skeleton around which you can hang the rest of your business. Because of this, you want to be kind to those who arrange for weekly, monthly, or quarterly cleanings, or for business customers who have their windows cleaned several times per week. That will keep customers coming back and will help you attract new long-term customers.
Consider working with a realtor to get regular work when they prepare for a property for sale, or working with construction companies as they finish new buildings, remodels, or modifications.
Taylor said that another way she rewarded repeat customers was by simply not raising their rates over time, making the price more attractive than it would be if the customer switched to a competitor.
Other Factors
Remember that your business needs to earn not only enough to pay your salary and that of your employees, but it also has to cover your business expenses like equipment. This is not just hoses, brushes, and cleaner, but also specialized equipment like weatherstripping, silicone tapes, and eraser wheels— wear and tear on your vehicles, insurance, licenses, and bonds. Be sure to factor in these costs by setting a minimum per call cost or when setting your per window, square footage, or hourly rates.
Editors' Recommendations