As the world adapts to zero emissions, Ford continues to innovate vehicles, new and old. The 2022 Ford E-Transit van is the all-electric version of the favored gas-powered Ford Transit. Through the Ford Pro pilot program, companies across the country are contracted to produce these vans in early 2022, testing the ability for rental, delivery, service, maintenance, telecom, and utilities alongside Ford Pro Intelligence and Ford Pro Charging solutions.
The van is designed to serve many different commercial industries, maximizing use for even the broadest range of services any business offers. With eight potential arrangements, like the cargo van's three possible roof heights and lengths, chassis cab, and cutaway versions, your fleet will have a wide range of customizable, adaptive options for any client or job. Ford Pro is a significant part of the Ford+ plan for growth and value creation.
Ford's plan for commercial companies is excellent, but what about small business owners focusing on delivery service? Let's take a closer look at what this electric van has to offer for your specific needs.
What does the Ford E-Transit offer?
You'll find top-of-the-line offerings with this EV van. Aside from the set release date in early 2022, the fact that many companies are already testing this vehicle through Ford's Pro pilot program will generate clear user and consumer info for your knowledge.
The Transit is a trusted vehicle from Ford already. With its release in 2015, the Transit has taken a top place in use and sales across commercial van purchases. You get the same spaciousness and adaptive build with advanced tech and improved capability and performance.
Space to Work With
The Transit is known for its roominess — one of the most significant selling points for commercial use. This electric van gives you the exact interior cargo dimensions and mounting spots. There's an improved cabin headspace with standard overhead shelving. And the rotary shifter and electronic parking brake result in more comfortable usage, giving you and your crew more room to move about the interior cabin and cargo areas.
Advanced technology
The Ford E-Transit comes with Ford Pro Intelligence. With this smart tech, you get solutions hardwired to the vehicle, like Ford Pro E-Telematics software tools. You also get wireless connections for real-time vehicle insights. These insights monitor battery charge to help cars stay energized. You'll never lose any van in the fleet with vehicle tracking. And you'll have a clear maintenance history with charging state, available range, charge history and logs, charging/battery settings and alerts, and departure preconditioning. These features help maximize capacity, saving battery life for any unpredictable parts of a job that may arise.
You also have a standard SYNC 4, which comes with a 12-inch screen, voice recognition, and multitasking options. Plus, the available Connected Built-In Navigation gives real-time maps to help you navigate. Therefore, none of your drivers will need to operate a smartphone for navigation with this handy feature, keeping your people and vehicles safer.
The embedded modem paired with Ford Telematics or Ford Data Services can help improve fleet processes by keeping you informed about every electric aspect of each vehicle in the fleet. In addition, the wireless, over-the-air updates for the SYNC guarantee software stays up to date, ensuring navigation is current, along with any important software updates.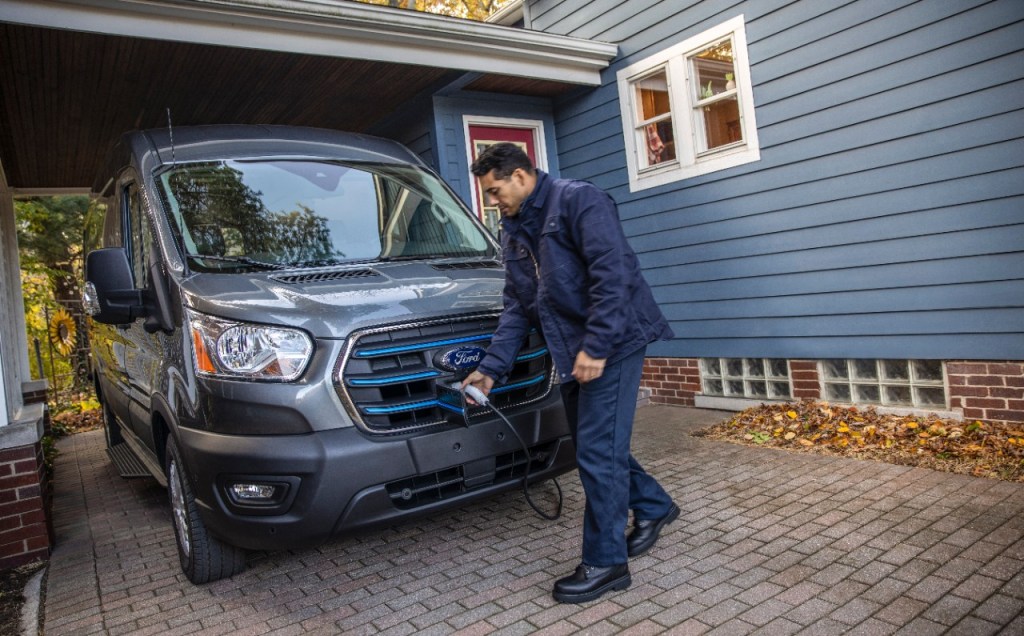 Electrified benefits
Spaciousness and tech aside, there are more benefits of this EV van. The E-Transit comes with an Eco Mode to improve energy usage. This means you get a better range and charge on every trip, and you can decrease your charging time, too. In addition, the battery pack underneath the floor maintains traditional Transit cargo capacity. The rear-wheel-drive, heavy-duty independent suspension system gives better traction when laden down with even the heaviest deliveries.
The Pro Power Onboard provides 2.4 kW of power for tools if you need power on the go. The advanced driver assists technology of the Co-Pilot360 offers intelligent and adaptive cruise control. You get speed sign recognition and smart speed assistance to keep your drivers and deliveries safer. The reverse brake assist alerts a driver when something is behind the vehicle, helping reach a complete stop if your driver can't stop in time.
The Ford E-Transit includes Ford Pro Charging, too. This extends charging and power options for any fleet of delivery vans. In addition, you get end-to-end tools for home, public, and depot charging. For employee home charging, there are hardware and software solutions for overnight charging. As the owner or manager, you have access to energy reports to simplify driver reimbursement.
If (and when) public charging is necessary, customers have access to the BlueOval Charge Network. This network offers over 19,500 charge stations and 63,000 charging plugs nationwide. Depot charging solutions include hardware and software that monitor optimal charging times for fleets to help avoid costs associated with peak charging hours.
Transitioning your fleet to EV vans
If you want to get away from gas-guzzling vans like the original Transit, look no further than its upgrade to an electric van. You won't miss the cost of fuel even with whatever you spend on electricity. Plus, the conveniences afforded by included smart tech guarantee a less frustrating experience managing even the largest fleet of vans. Take one for a test drive and keep an eye out for trusted industry reviews on the upcoming Ford E-Transit.
Editors' Recommendations