Are you a devoted Ford fan? Do you love the Mustang but have always wanted more storage, better fuel mileage, and more? Then you need the Ford Mustang Mach-E. This EV boasts classic design elements from the American muscle car, with a modern twist.
This upcoming electric car has many new features to discover. Plus, you have to know when the vehicle will be released and just how much it will cost you to purchase. Read on to learn the essentials of this new Ford vehicle.
Seamless, adaptive technology
The Mustang Mach-E offers Whisper, Engage, and Unbridled drive modes — driving experiences tuned and packaged with a special sensory experience. Features include custom-designed vehicle responsiveness with unique steering controls, ambient lighting, and sounds tuned for an all-electric experience.
When the vehicle launches, a new Mach-E all-wheel-drive system can apply torque to the front and rear axles for better acceleration and handling. There are different models of the Mach-E. Some come with the standard battery and rear-wheel drive, others with an extended battery and all-wheel drive.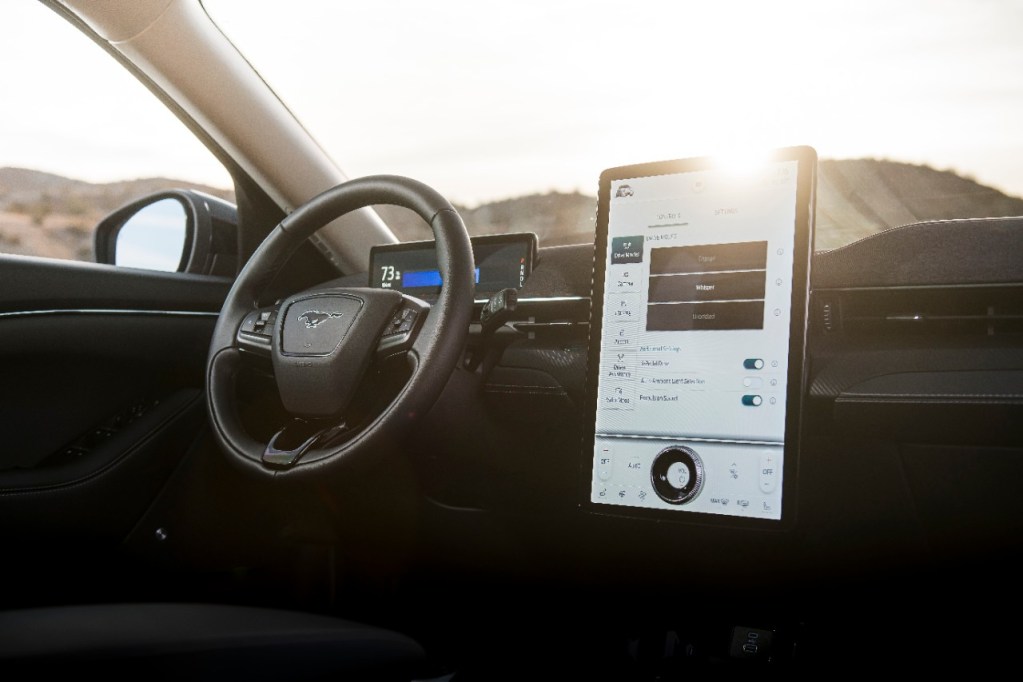 Entirely electric experience
The Mach-E comes with a next-generation SYNC communication and entertainment system. This interface uses machine learning to understand drivers' preferences and stays updated over the air. SYNC 4A's 15.5-inch screen and interface feature touch, swipe, and pinch controls every smartphone owner will be comfortable using.
As SYNC 4A evolves, Ford gave the Mach-E the ability to continuously improve through secure, over-the-air updates to enhance vehicle performance, maintenance updates, and entirely new features.
A new take on a classic
The Mach-E, easily recognizable as a Mustang, features a long, powerful hood, rear haunch design, aggressive headlights, and trademark tri-bar taillights. Its all-new propulsion system offers a drainable front trunk storage unit with 4.8 cubic feet of storage. And because it's drainable, you can use it for a day trip or the next tailgate party.
Easy comfort and command
Ford designers made sure to maximize cargo and cabin space (since EV batteries are far more compact). The SUV-size interior seats five adults easily, making it quite roomy. This electric Mustang comes with a front trunk and the rear trunk of 29.7 cubic feet. With the rear seats down, the Mach-E offers a roomy 59.7 cubic feet.
Roomy storage and seating aside, the Mach-E comes with Bang & Olufsen speakers above the air vents. The floating flip-up armrest doubles as storage. Its panoramic fixed-glass roof has a special coating to better insulate the interior. An additional inner layer between the glass protects against UV rays.
Ford's Phone As A Key technology debuts in the all-new Mustang Mach-E. With Bluetooth, the vehicle can detect owners' smartphones as they approach, unlocking and starting the car. A backup code can be entered on the center touch screen to start and drive the vehicle if a phone battery dies.
Hassle-free charging
The Mustang Mach-E will be available in both standard-range (66 kWh) and extended-range (88 kWh) batteries with an estimated range of at least 300 miles in all-wheel drive. These batteries feature 288 lithium-ion cells in the standard-range version and 376 lithium-ion cells in the extended-range version. The battery lies between the vehicle's two axles, inside a waterproof case with crash absorption protection. They perform in extreme weather and with improved charging times.
Ford offers a Ford Connected Charging Station with an estimated average range of 30 miles per charging hour on a 240-volt outlet. Ford's partnering with Amazon Home for easy home installation by a licensed electrician. The integrated navigation system identifies public charging locations so drivers don't forget to "fill up."
Mach-E owners have access to the FordPass Charging Network with multiple home charging solutions — the largest public charging network nationwide. This network has over 13,500 charging stations (and more than 40,000 charge plugs) and is growing.
With a peak charging rate of 150 kW, the Mach-E's extended battery and all-wheel drive add an average of 61 miles of range in roughly 10 minutes (with a DC fast charging station). The standard-range edition can charge from 10% to 80% in approximately 45 minutes on a DC fast charging station.
When you can buy it (and for how much)
You can preorder the Mustang Mach-E, but delivery won't occur until about February 2022. Pricing breaks down based on the model you select and additional features you include. Here are approximate prices for the four Mustang Mach-E models:
Select model runs just under $43,000
Premium model goes for a little over $48,000
California Route 1 is close to $51,000
GT model is just under $60,000
Each of these models varies in its offerings. Higher-priced models like the California Route 1 and GT come with longer battery life and all-wheel drive. More affordable models come with rear-wheel drive and standard battery charge.
Editors' Recommendations