As a company, Volkswagen has a history of reliable vehicles. Volkswagen manufactures classics with a bit of a cult following. The VW Bug, Rabbit, and Microbus Van are all iconic. These traditional gas-powered vehicles are a hallmark of the brand's impact, which comes as no surprise.
By 2030, every manufacturer in the entire VW Group will offer some sort of electric vehicle, even Lamborghinis and Bugattis. (If the transmission problem with sustainable acceleration with EV batteries is solved, electric sports cars will really happen.) The company aims to achieve half its sales through all-electric vehicles by 2030 as well.
There are three upcoming Volkswagen EVs slated for sale or release in 2022 (and beyond). Read on to discover the features and prices, along with the release year and other interesting design details. You'll be surprised at what's in store for the near future.
ID. SPACE VIZZION
Of the vehicles listed in this article, the ID. SPACE VIZZION is still in concept. It's the seventh slotted vehicle for VW's EV platform. As an EV SUV, this sizable wagon offers 300 miles of EPA-rated range from its 82-kWh battery pack, plus 150-kW DC fast charging capability. Plus, you get a typical EV's fast acceleration of 0-60 mph in 5 seconds.
The ID. SPACE VIZZION's preconceived battery pack will be mounted low in the center of the vehicle with either a single rear motor or front and rear motors. Aside from the mileage, this battery and motor placement allow for 275 HP in rear-drive form alone. With dual motors, this SUV could reach 335 HP, according to Car and Driver.
The 22-inch wheels and touch-sensitive areas to activate the doors will likely appear in higher-end models. The augmented-reality heads-up display replaces the gauge cluster as the driver's information source. It's intended for every vehicle class. Plus, the 15.6-inch center screen will likely be in every vehicle class, too.
Aside from the obvious sustainability of a Volkswagen EV, vegan synthetic leather is another plus. Dubbed AppleSkin, this leather uses waste from apple juice production. There's no clear pricing scale or release date yet, but the launch year is still slated as 2022.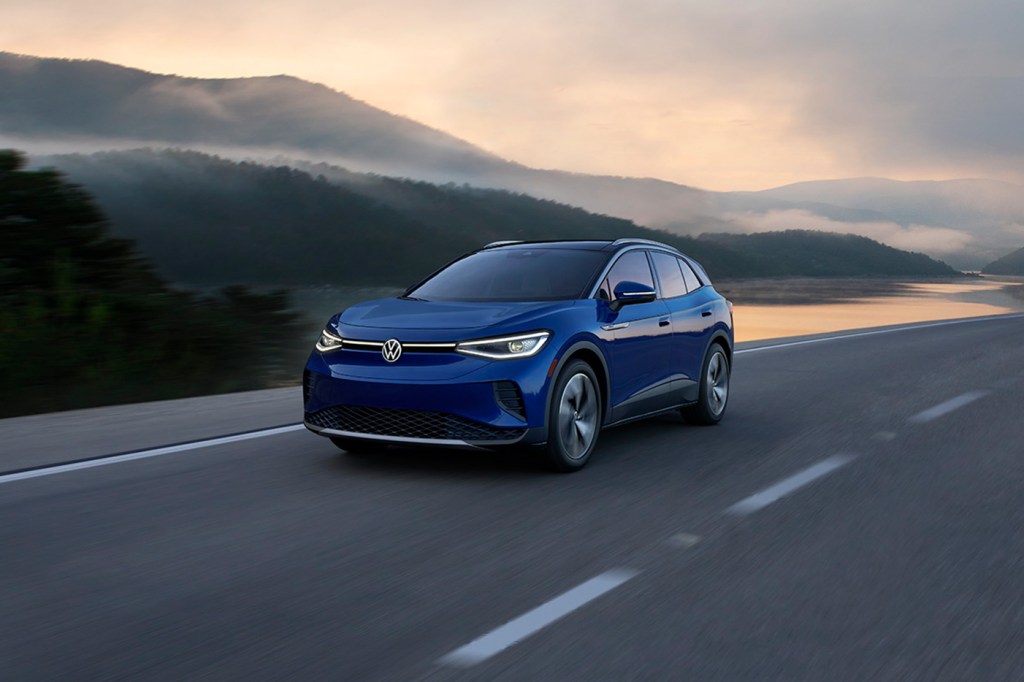 Volkswagen ID.4
The ID.4 is a top-of-the-line electric car that was recently awarded the 2021 World Car of the Year⁠. VW has already released this vehicle at a starting price of $39,995⁠. With potential federal tax credits, you could get it for as low as $32,495⁠.
The estimated travel range for a full charge is 260⁠ miles. And the total estimated charging time using a public DC fast charger is 62 miles in about 10 minutes⁠. There are three available vehicle classes, including:
Pro: retails for $41,190
1st Edition: retails for $45,190
Pro S: retails for $45,690
A base model priced around $35,000 gives value-minded consumers the chance to meet their EV aspirations. The 1st Edition represents a decent value, including optional Statement and Gradient packages as standard, which normally cost $4,500 and $1,500, respectively. For an extra bit of cash, customers receive a 12-inch display, a panoramic sunroof, a power-operated rear liftgate, and 20-inch wheels.
Volkswagen ID. Buzz
If you've ever wanted to own a VW van, you've got another chance. Unlike the diesel-guzzling Type 2 of the 60s and 70s, the VW ID. Buzz is an electric van. There are many odes to the old-school reference, with a fair amount of innovation.
The front V bodywork is like the original two-toned bus. The ID. Buzz has a light strip surrounding the vehicle, providing a unique visual signature. The LED hexagonal headlights communicate the vehicle's status. With a near-zero body overhang and 22-inch wheels, this Volkswagen EV van is timelessly modern.
The first VW bus had 50 HP. The ID. Buzz has a conceptualized 369 HP from motors on each axle. This also creates an all-wheel-drive setup. The 111 kWh floor battery pack in the MEB chassis gives an estimated 300 miles estimated range. With a VW fast charge system, you can recharge about 80% of its energy capacity in 30 minutes at 150 kW.
The anticipated release date is late 2022, but the price is yet to be announced. Extra features, likely for higher vehicle classes, include Level 4 autonomous driving, a touchpad steering wheel, and augmented reality navigation.
The next VW electric vehicle
As each new Volkswagen EV is released or conceptualized, there's more to learn. VW and other brands continue to revolutionize assumptions about electric cars. These listed vehicles are just a small sampling of what Volkswagen has to offer.
The brand's upcoming plans to convert the VW Group to electric production by 2030 mean many big changes are on the way. It's valuable to do your research and stay updated if you've wanted that old-school brand with a more modern touch.
Editors' Recommendations