Over the next few years, the EV market is expected to house a variety of vehicle options for consumers to choose from. Currently, sedans are the most popular variety of EVs. However, plenty of EV trucks will be released to the consumer EV market come 2022. The anticipated EV trucks set for release are predicted to be highly competitive options for buyers looking for all-electric truck options.
Of the numerous EV pickup trucks, two of them are the GMC Hummer EV truck and the Rivian R1T. GMC is reinventing its well-known Hummer brand into an EV model. Conversely, Rivian is an all-new auto manufacturer startup that focuses only on all-electric vehicles. Nevertheless, let's discuss how these two compare to one another for an EV pickup truck choice.
GMC Hummer EV features and pricing
General Motors initially founded the Hummer name back in the 1990s, and the model line sold until it dissolved in 2010. The brand was discontinued due to the lack of fuel efficiency of the vehicles. However, with the more significant push for clean energy vehicle options on the roads, GMC went back to the drawing board with its famous Hummer brand and redesigned it as an all-electric vehicle. GMC will be selling the Hummer EV brand as an all-electric truck and later SUV models.
GMC states this EV will be powerful, durable, and fast with a 0-60 acceleration estimated at 3 seconds. The Hummer EV truck is expected to compete with similar EV pickup trucks from rival automakers, with a stated 1,000 HP and a torque rating of 11,500 lb-ft. The Hummer EV truck will also use three electric motors and offer an estimated range of 350 miles per charge.
It rides on 35-inch tires and features adaptive air suspension and a rock-crawling capability that's perfect for off-roading. The base model is anticipated to begin its retail price at $79,995. The higher version, called Edition 1, is estimated to start at $112,595 once it becomes available later in 2022.
Rivian R1T specifications and cost
The revolutionary R1T is an all-electric pickup truck from an American startup brand Rivian. The all-electric startup was founded in 2015 with the mission to move away from fossil fuel usage into all-electric vehicles.
EV consumers can expect to see deliveries starting in January 2022. Prices for this pickup truck are listed to begin at $67,500, depending on trim packages. In addition to many of the other EV trucks set for production or release in 2022, the Rivian R1T will include a robust tow capacity, horsepower, and battery range.
The features to be expected will include all-wheel drive, the ability to tow up to 11,000 pounds, an adjustable air suspension for off-roading, and Level 3 autonomous driving capability. The Launch Edition trim of the R1T is anticipated to have up to a 300-mile per charge range with high drive ranges per charge expected for upper trim model releases. Rivian advises its trucks come equipped with a 180-kWh battery pack and can reach 60 mph in 3 seconds.
Shared features of these EV trucks
There are several notable features shared between the GMC Hummer EV pickup and the Rivian R1T. The first feature that's similar between these two EV trucks is the battery drive range of over 300 miles per charge.
Additionally, these trucks feature a robust level of acceleration, with both at 0-60 in 3 seconds. These trucks will also feature durable and powerful adaptive air suspension for off-road capabilities. Alongside the adaptive air suspension, both EV pickup trucks will feature a rock crawler feature, which allows for safer driving on more elevated terrain at low speeds.
How to differentiate these EV trucks
While these two EV trucks have several similar features that make them highly competitive against one another, there are some notable differences that consumers need to consider. One factor to consider is that the Hummer EV has been stated to have up to 1,000 HP versus the R1T having approximately 800 HP.
Another consideration between these two vehicles is that they look varyingly different in their exterior design. The Hummer EV, for example, has a more unconventional body design and frame, while the Rivian R1T holds to a standard truck design that could mistake it for an existing gas-powered truck. Also, the R1T has more extensive thought through with its use of space within the interior and exterior of the truck and more innovative storage, such as the gear tunnel.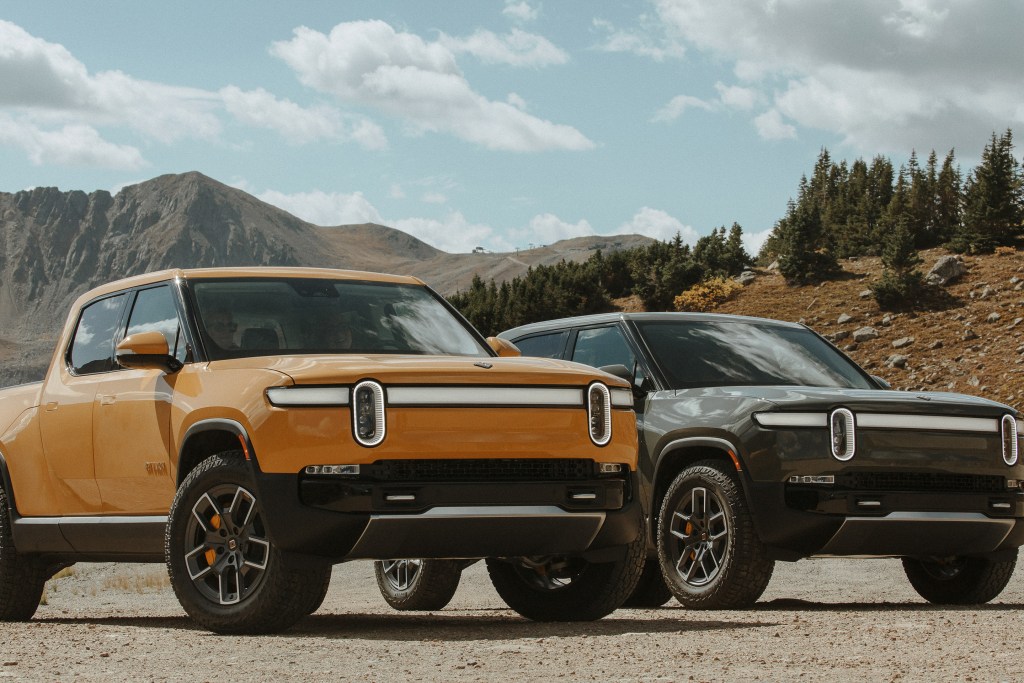 Closing statements on GMC Hummer EV vs. Rivian R1T
The Hummer EV and Rivian R1T will be highly durable and innovative options within the EV truck market. These two EV truck varieties, which will be available in 2022, have a lot of similarities when it comes to speed, agility, and even their price points.
Thus far, GMC has stated that the Hummer will be quick to accelerate while maintaining over 1,000 HP versus the R1T EV truck having around 800 HP. The decision between these two EV trucks for consumers comes down to personal needs for a truck and choice of body style.
Editors' Recommendations