The initiative for increased all-electric vehicles on the road is more present than ever. While the current EV market is predominantly sedan models and SUVs, automakers are branching into other vehicle offerings. Many manufacturers are planning to release EV pickup trucks as part of the EV industry throughout 2022 and beyond.
There have been many critics doubting the capabilities of all-electric trucks because of the battery technology needs for heavy trucks. However, several of these EV truck options set for a 2022 release are presumed to become the next superior option for both personal and commercial trucks in the American auto market. Let's explore the anticipated EV pickup trucks that consumers can get excited about in 2022.
Ford F-150 Lightning
The Ford F-150 Lightning is expected to be competitive with other manufacturers in the EV truck market. This truck has been designed to look almost identical to its gasoline-powered version. Also, this EV truck will offer a battery range, depending on the trim design, up to 230 miles on a charge for base models. Consumers can anticipate an extended range for the battery at a projected 300 miles of range for higher trim models, like the Lariat and Platinum trims.
This EV truck will come with extensive horsepower for an all-electric truck. For instance, the lower trim packages will have a dual-electric motor with 426 HP. Consumers can expect around 563 HP for more extensive trim packages.
These Ford EV trucks will also have quality towing and haul capabilities with standard all-wheel-drive on all the trucks and can tow up to 10,000 pounds. Manufacturer suggested retail price for these EV truck models will start at just under $40,000 up to around $90,500. Right now, you can reserve your F-150 Lightning with an anticipated shipment in spring 2022.
Tesla Cybertruck
Another EV truck expected to begin production in late 2022 is the Tesla Cybertruck. Starting at below $40,000, the Tesla Cybertruck will be environmentally friendly and notably durable. Tesla states that the interior and exterior of the vehicle will be made with hardened and stainless steel designed to be resistant to corrosion and dents. Tesla's Cybertruck is expected to seat up to six passengers comfortably. The models for the Cybertruck will come in single, dual, and triple motors.
Depending on the trim model, the battery ranges can be between 250 miles in the single motor rear-wheel drivetrain and up to 500 miles in the tri-motor all-wheel-drive version. Each model of this all-electric truck will come with 16 inches of ground clearance and standard adaptive air suspensions, which are ideal for off-road driving.
Rivian R1T
The revolutionary R1T is an all-electric pickup truck from an American startup brand Rivian. Consumers can expect to see deliveries starting in January 2022. Prices for this EV pickup truck are listed to begin at $67,500, depending on trim packages. In addition to many of the other EV trucks set for production in 2022, the Rivian R1T will include a robust tow capacity, horsepower, and battery range.
The expected features will include all-wheel drive, the ability to tow up to 11,000 pounds, an adjustable air suspension, and Level 3 autonomous driving capability. The Launch Edition of the Rivian R1T is anticipated to have up to a 300-mile per charge range. Rivian states that cars equipped with the 180-kWh battery pack can reach 60 mph in 3 seconds, which is comparable to a supercar.
GMC Hummer EV
GMC discontinued the Hummer brand in 2010 because of lower-than-average sales due to the lack of fuel efficiency for the model line. However, the comeback for the Hummer brand is expected to be an all-electric pickup truck and later released SUV.
This electric vehicle competes against similar EV pickups from rival automakers with a stated 1,000 HP and a torque rating of 11,500 lb-ft. This EV truck will also use three electric motors and offer an estimated range of 350 miles per charge. The Hummer EV rides on 35-inch tires and features adaptive air suspension. The base model will cost around $80,000; however, the higher version, called Edition 1, will cost nearly $113,000 and will be available later in 2022.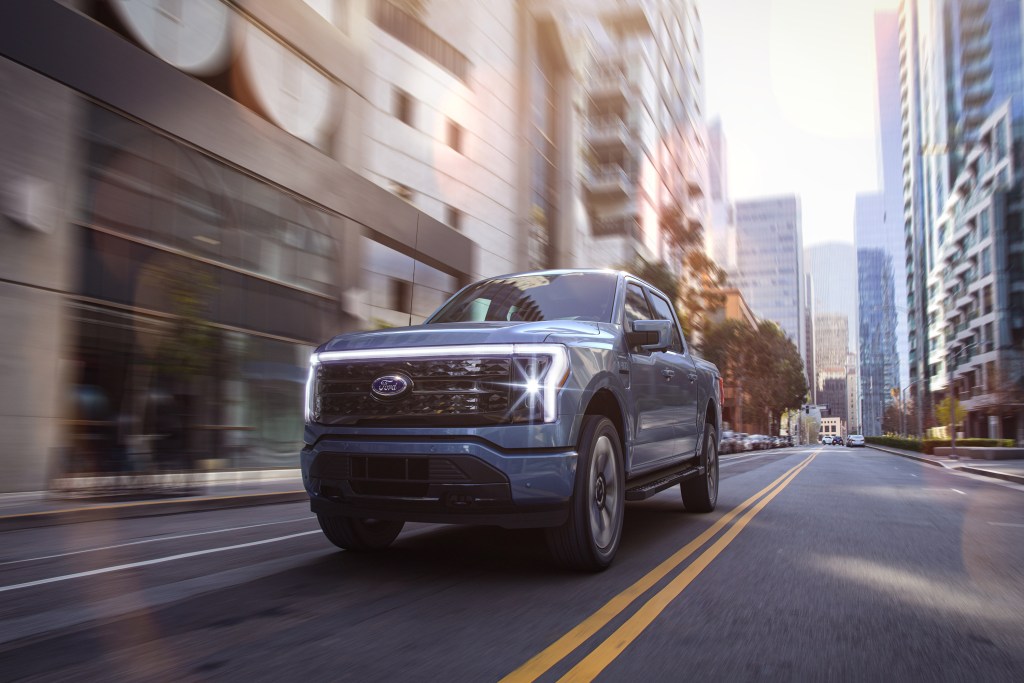 Concluding comments on anticipated 2022 EV trucks
While EV sedans have dominated the electric car industry thus far, many trucks coming on the market in 2022 will add more options for both new and seasoned all-electric auto enthusiasts. Many EV pickup truck varieties will have similar features and capabilities available for consumers to choose from.
It should also be mentioned that many of these EV truck varieties will also compete against one another in price. Consumers will have more options to select between EV sedans, SUVs, and now trucks. With a variety of EVs on the market, more consumers can opt to adopt this technology for their everyday driving needs.
Editors' Recommendations