Despite a rough patch in 2020 caused by the pandemic, total EV sales reached over 10 million. That's 1% of the total automotive market share and a 43% increase from 2019. The outlook for 2021 looks even better, with estimates at around 7% of total automotive sales.
As 2021 wraps up, EV manufacturers and consumers interested in switching to electric are curious about what 2022 has in store. Many experts believe the current trends will hold, allowing the electric car market to surge.
Outside of sales numbers, several other trends give promise to expert forecasts. Let's touch on those and how they might contribute to continued success in the electric vehicle market.
Americans warming to electric vehicles
Simply by looking at the sales numbers, it's easy to see that people are coming around to the thought of owning an electric car. According to a survey that marketing company YouGov conducted of 33,000 U.S. drivers for Forbes Wheels, over 22% said they would consider an EV as their next car (new or used). Based on the above estimated electric car industry market share for 2021, around seven times the number of people are interested in EVs than are actually purchasing.
PHEVs prove to be excellent EV transition vehicles
A significant reason why the number of people interested in electric cars than purchasing could be that they simply aren't ready. People likely have doubts about the overall sustained success of the EV market. For this reason, and many others, people aren't ready to dive headlong into an electric vehicle.
Plug-in hybrid electric vehicles are in the same category as battery electric vehicles (fully electric vehicles). Their sales numbers contribute to the overall EV market share. PHEVs are capable of a range of 20-30 miles on battery alone and must be plugged in like any other EV. But they also have a reserve gas tank for longer trips.
Over the first two quarters of 2021, PHEV sales rose to 174,000 globally. This figure is 2.6% of the overall electric vehicle market share. These numbers are a good indication that people are using PHEVs to test the waters in the electric car market. It would be reasonable to assume this could drive up overall EV sales in the future.
An executive order of 50% EVs by 2030
Forward-looking government policy could play an essential part in the overall increase in demand for electric vehicles. In August 2021, President Joe Biden signed an executive order for the U.S. to reach a goal of 500,000 zero-emission vehicles to be on the road by 2030. This means EVs will reach half of the entire automobile industry if Americans can reach this goal. Automotive manufacturers are awaiting government policy announcements on how exactly to tackle this lofty goal. However, it's expected that there will be many incentives for automakers to comply.
Charging infrastructure plans
The lack of available EV charging stations away from home has always been an enormous barrier stopping people from committing to purchasing EVs. Currently, there are 43,000 charging stations across the country, compared to the 150,000 easily accessible gas stations.
The government is aware of the lack of green infrastructure, and EV charging stations have their place within Biden's $1 trillion infrastructure bill. Realistically, it could take decades to fill the charging station gaps enough to catch up with growing demand. However, the fact we're moving in the right direction is promising for the electric car industry in 2022 and beyond.
Continuing developments in battery charging
Technology leaders are working tirelessly to improve battery charging capabilities to bridge the gap between available charging stations and increasing EV demand. Toyota's new EV, the bZ4X, has a solar roof that provides a small trickle charge into the battery while the SUV is in use. This technology is expected to provide an additional 1,000 miles of driving range per year. While it might not seem like that much improvement to battery capabilities, it gives a bigger picture for things to come.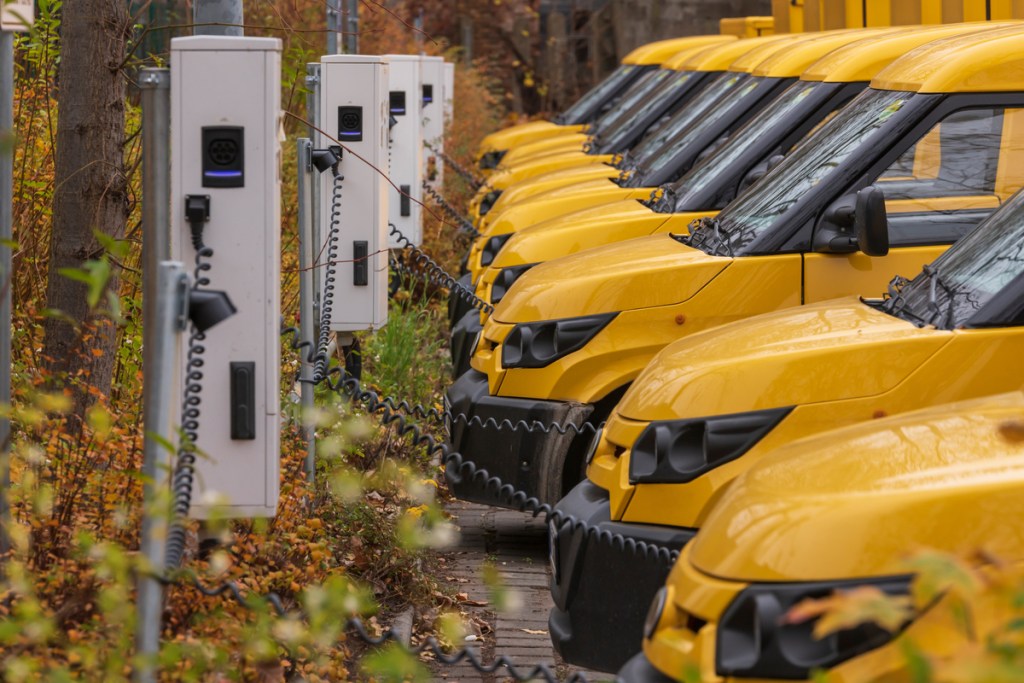 EV delivery market surging
Even if regular consumers aren't entirely convinced of the benefits of owning an EV, businesses are beginning to come around quickly to their excellent ROI. Any company involved in delivering a product or service is starting to understand that owning your own fleet of electric vehicles means owning your energy source. It's doubly true if businesses are implementing solar as a primary source of energy.
One example that shows this to be true is Amazon's order of 10,000 electric delivery trucks from automaker Rivian. Other electric automotive companies like Canoo, Aryo, and Paxter are seeing the massive potential to supply EVs to companies and are working hard to stay ahead of demand.
Electric trucks and SUVs widen demand
Speaking of Rivian, it isn't the only company to recognize the demand for electric pickup trucks and SUVs. Although Rivian trucks will be the first ones on the road, Tesla, Ford, and GMC are all rushing to compete. As EVs continue to grow in size and provide more utility and family functionality, demand in the electric vehicle market will continue to grow.
Closing thoughts
Next year is stacking up to be an exciting year for EVs. If the numbers remain on track, electric vehicles will see continued growth in 2022. There are many trends to show that 2022 has a lot in store for electric vehicles. But the most momentum could be provided by recent government orders, which hope to put 500,000 EVs on the road by 2030.
Editors' Recommendations