There are many exciting developments in the world of electric SUVs/crossovers to come over the next few years. Some luxury brands like Volvo and Audi have introduced electric SUVs. However, people are excited about the affordable option to be released by Toyota — the Toyota bZ4X SUV, set to release in mid-2022.
Although the price hasn't been announced, this EV SUV is expected to start in the high $30,000 range, as opposed to the luxury models from the brands listed above, which start in the high $50,000 to mid $60,000 range.
There's a lot to be excited about with the debut of the Toyota bZ4X, besides its (hopefully) affordable price. For years, Toyota has dominated the hybrid car market with its best-in-class Prius. Those who are loyal to the Toyota brand know the automaker only releases quality vehicles. We all know someone with an old Toyota that has hundreds of thousands of miles on it and is still going strong. Because of this, Toyotas have some of the top resale values on the market, and its new models carry the same expectations of quality.
Toyota has already introduced an electric version of its RAV4, the 2021 RAV4 Prime. However, it was met with lackluster enthusiasm in comparison to the bZ4X. There are many reasons why the Toyota bZ4X has people talking. One big reason is that Toyota teamed up with Subaru to design this EV, another highly revered automaker whose cars also retain their value, as well, if not better than Toyota. Subaru plans to release its own version based on the same model called the Solterra.
If you're in the market for a new electric SUV, here are some reasons why this might be the model for you.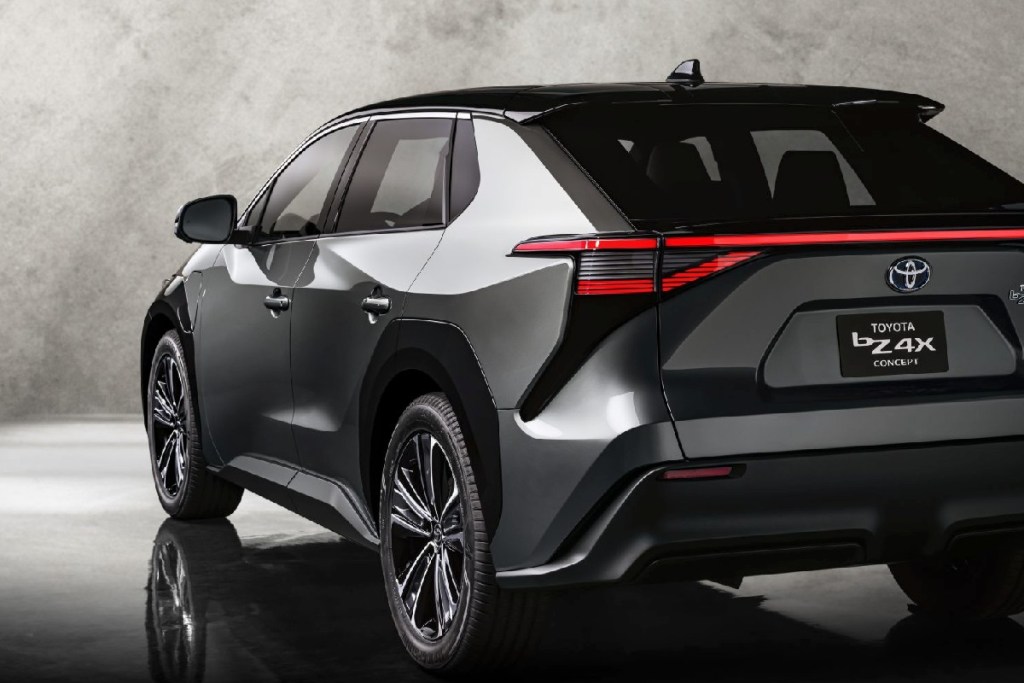 Battery life, range, and charging capabilities
What's making EVs across the board more appealing are the advancements in battery technology that let you drive more miles on a single charge and recharge more quickly. The Toyota bZ4X is no exception. The EV SUV will get roughly 250 miles on a single charge for its FWD version based on manufacturer estimates, Toyota says. These numbers can vary depending on the drivetrain you choose, driving style, and the environment. However, the range is among the highest on the market.
Another excellent feature of the Toyota bZ4X's 64-kWh battery pack is its rapid-charge capability. Toyota claims the battery can regain 80% power within 30 minutes with a DC fast charge, making long-distance road trips more of a reality with this electric SUV. The battery is also integrated into solar paneling on the SUV, which is said to add 1,000 miles of driving range per year.
Powertrain options and horsepower
The Toyota bZ4X will come with both the option of a front-wheel-drive and all-wheel-drive model. As mentioned above, you might have to sacrifice some battery range with the AWD model, but it might be worth it for colder regions.
The AWD model gets less range than the FWD because it comes with a bit more power due to its inclusion of more motors. The FWD is attached to a 150 kilowatt motor on the front axle. The AWD has dual 80kW motors at the front and rear, bringing its total power output to 160kW.
Don't expect a Tesla-like acceleration, going 0-60 mph in under 3 seconds. Toyota isn't saying what 0-60 times for the bZ4X will be, but we're not expecting sportscar-like performance.
Size and style
Perhaps the most exciting thing about the new Toyota bZ4X is its unique design. This SUV is sleek and has a futuristic look, boasting sharp edges. Toyota also ditched the fake grill equipped on many EVs, giving it an even more elegant end-to-end look. The interior doesn't feature any groundbreaking EV design but may come with a yoke-style steering wheel, similar to some Tesla models. If customers aren't ready for this futuristic feel, they can opt for a traditional steering wheel.
With a few exceptions, the largest SUV available in a full EV was the subcompact variety. This electric SUV offers more room, somewhere between a Toyota Venza and a RAV4. The extra space provides a more family-friendly EV option.
Final thoughts on the Toyota bZ4X
Toyota entering the full EV market is a big deal. It means the automaker is willing to move away from the hybrid model (that it has been so successful with) and compete in the electric vehicle market, which is a sign it's heading in the right direction.
The Toyota bZ4X offers a lot of value. It has a very decent range and can charge to 80% within 1 hour (when plugged into a fast-charge station). Its sizable yet stylish design also makes it an electric SUV that people want to be seen in. All for a starting price that's comparable to gas-powered versions of the same class. It's yet to be seen, but this electric vehicle from Toyota could cause a massive shift in demand for EVs.
Editors' Recommendations