Many luxury automakers are also considering bringing their high-end brands to the EV market. Mercedes-Benz has been well-known for its high-end luxury, gas-powered sedans and SUVs for decades. As the demand for EVs increases in the auto market, more manufacturers are jumping on board to produce these vehicles.
Given the demand and popularity of EVs continue to grow exponentially in the next few years, it comes as no surprise that Mercedes-Benz is expanding its EV lineup, as well. Mercedes-Benz has only officially shared two of the vehicle models currently in development for the U.S. auto market. Let's explore the Mercedes-Benz EV models set for a 2022 release and what to expect from these electric vehicles from the luxury carmaker.

What's the all-new Mercedes-EQ?
As Mercedes-Benz rolls out its electric car lineup, it has branded its EV line as Mercedes-EQ. The EQ brand that Mercedes-Benz has begun is the model line that solely consists of its all-electric vehicles.
Currently, Mercedes-Benz has officially released three models to the public. However, most of the pre-production information is limited except for the EQS model. Mercedes-Benz has hinted that the EQ line will consist of up to seven different model options projected for later release dates, with some select models not available in the U.S.
Mercedes-Benz prides itself on having safety and performance for its gas-powered vehicles and aims to use technology to enhance that with an all-electric twist for its Mercedes-EQ lineup. Below are some of the proposed EQ features EV consumers can expect.
AC electric motor

– the Mercedes-EQ vehicles use synchronous or AC motors, which are known for their efficiency, smaller design, and the ability to produce elevated torque outputs at lower speeds.

MBUX Hyperscreen

– The MBUX Hyperscreen is the dash panel that runs from door to door, providing a seamless and relatively intuitive user interface for motorists.

Powerful charging capabilities

– Mercedes-Benz offers the

Home Flex

charge station from ChargePoint, which owners can have installed through

Gmerit

. EQ owners also have the option through manufacturer-specific Mercedes me Charge to locate nearly 60,000 public chargers nationwide through the MBUX Hyperscreen system.
Mercedes-Benz EQS
The Mercedes-Benz EQS sedan is the automaker's first release of the EQ prototype electric cars. This EV comes with two model options, which are the EQS 450+ sedan and the EQS 580 4MATIC sedan.
The EQS 450+ design will come in a single electric motor and rear-wheel drivetrain with a 0-60 acceleration at 5.9 seconds. Drivers can also expect the EQS 450+ to have 329 HP and 419 lb-ft of torque. This Mercedes-Benz EV will be a quality base model luxury EV for drivers. However, the manufacturer has not yet confirmed the battery drive range, while the price tag can be expected to start at a retail price of over $102,000, depending on the trim model.
The second option for Mercedes-Benz EQS EVs is the EQS 580 4MATIC. This EV trim model for the EQS will be faster than the 450+ version, with a dual electric motor and a 0-60 acceleration at 4.1 seconds. Additionally, the EQS 580 4MATIC is expected to see 516 HP and 631 lb-ft of torque. This model also doesn't have a listed battery range stated yet.
However, with the increase of the dual motor and greater horsepower, potential purchasers will see an increased price point starting at over $119,000, depending on the trim model. These two models are currently available for build on the Mercedes-Benz website and through authorized Mercedes-Benz dealers.
Mercedes-Benz EQB
The Mercedes-Benz EQB is the only other vehicle that has been officially announced by the automaker, which is anticipated for the U.S. market. This EV from the luxury car manufacturer will be a smaller-sized SUV. According to MotorTrend, the EQB will offer two powertrain choices, which include a 225 HP EQB 300 model and a more powerful 288 HP EQB 350 model.
These models will come standard with all-wheel drive, thanks to the dual-electric motor located on each axle. It's also projected that owners can expect a 67-kWh battery pack. However, Mercedes-Benz has yet to release the specific performance and battery figures for the more powerful and faster EQB 350 version.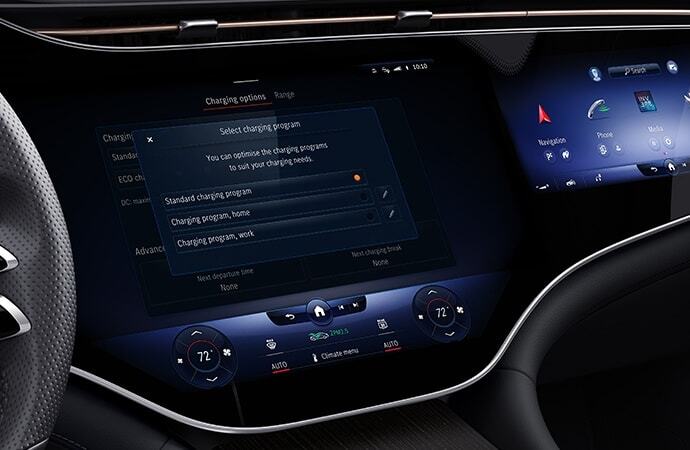 Concluding remarks on Mercedes-EQ EVs
Mercedes-Benz is well known for its luxury and performance in its gas-powered vehicles over the decades. While the German auto manufacturer may have many EVs in development and design, right now, there's limited information available on what is to come with its luxury EV model offerings.
Currently, Mercedes-Benz is taking build orders for the EQS models, with anticipated shipments coming in 2022. The Mercedes-EQ electric vehicle lineup is sure to blend all-electric capabilities with luxury and performance for car enthusiasts and especially Mercedes-Benz fans.
Editors' Recommendations