A roof is one of the most structurally crucial parts of any home or building. Roofs shield the inside of homes from the elements, such as the snow, heat, cold, sun, and storms. Over time, natural green clusters can begin sprouting in the shaded areas of the roof. If this situation occurs, there's moss growing on the roof.
While it may not seem like a significant concern at first, an underlying issue could be the cause of the growth. Moss can ultimately cause damage to a roof, as it can absorb water and keep the roofing underneath it damp. To prevent moss from causing long-term damage to a roof, let's dive into how to remove moss from a roof.
What causes moss growth on roofs?
Moss is a common concern for roofs, especially in areas where it doesn't rain much. This can occur in sections of your roof that don't see much sun, including moist areas. Newer asphalt, fiberglass, or slate shingles often have a moss-resistant chemical coating. However, older shingle roofs are frequently subjected to moss or other vegetation.
As moss becomes more prevalent, the process of how to remove moss from a roof can become a more significant challenge. Additionally, the moisture buildup on the roof can lead to severe structural concerns for the entire home once the moss has established itself.
Determine if the roof needs replacement
If there's a widespread area of moss on the roof, some damage may have already occurred. A thorough roof inspection by a certified professional can help determine how to remove moss from your roof. If the inspection reveals that the roof's overall structure is weakened, it's time to replace it.
In certain instances, replacing your roof may be preferable rather than spending time removing the moss from the canopy. However, depending on the degree of the damage, it's possible to replace certain areas without replacing the entire roof.
How to remove moss from a roof
When removing moss from your roof, several safety measures should happen. Ensure there are multiple people to assist, rather than tackle it alone, and use safety equipment like a rubber-footed ladder. Once you've taken care of safety requirements and there's adequate access to clean off the affected areas with moss growth, there several steps to take when removing moss from a roof.
Scrub off the moss

– Use a gentle scrub brush and work slowly to avoid scratching and potentially damaging the roof. For example, asphalt shingles have protective oils and tar, which protect them from UV light and moisture — you could damage the shingle granules if you scrub too rigorously.

Wash off the roof

– Clear the entire roof of any remaining debris that may protect the moss spores. Use a standard spray attachment for a hose versus a power washer when cleaning and rinsing off the roof to avoid damage or potential leaks.

Eliminate the spores – Use vinegar or a 50/50 chlorine bleach and water solution to clean and kill the moss spores. More eco-friendly solutions, such as baking soda or zinc salts are gentler and won't harm other plants or the roof. There's also an option to leave the solution on the roof to ensure the spores are eliminated; however, be mindful of harsh chemicals damaging protective coatings.
How to mitigate moss regrowth
One of the most effective natural moss repellents is sunlight exposure. In order to allow adequate sunlight exposure to the roof, make sure to keep trees pruned away from the roofing system. This also protects your roof from falling limbs and any potential animals that may take refuge in your attic.
Cleaning your roof and gutters from debris seasonally helps keep moss from regrowing on the roof. Additionally, it's vital to have proper drainage on the roof to ensure everything stays dry and to promote better air circulation. It's no secret that standing water on your roof can cause wood to rot and encourage mildew, mold, and leaks.
Another solution to mitigate regrowth is installing zinc strips along the ridges of your roof for traditional shingle roofs. When precipitation falls, the method of how zinc strips work is that the water washes down tiny specs of zinc that kill moss growth before it becomes a more significant issue.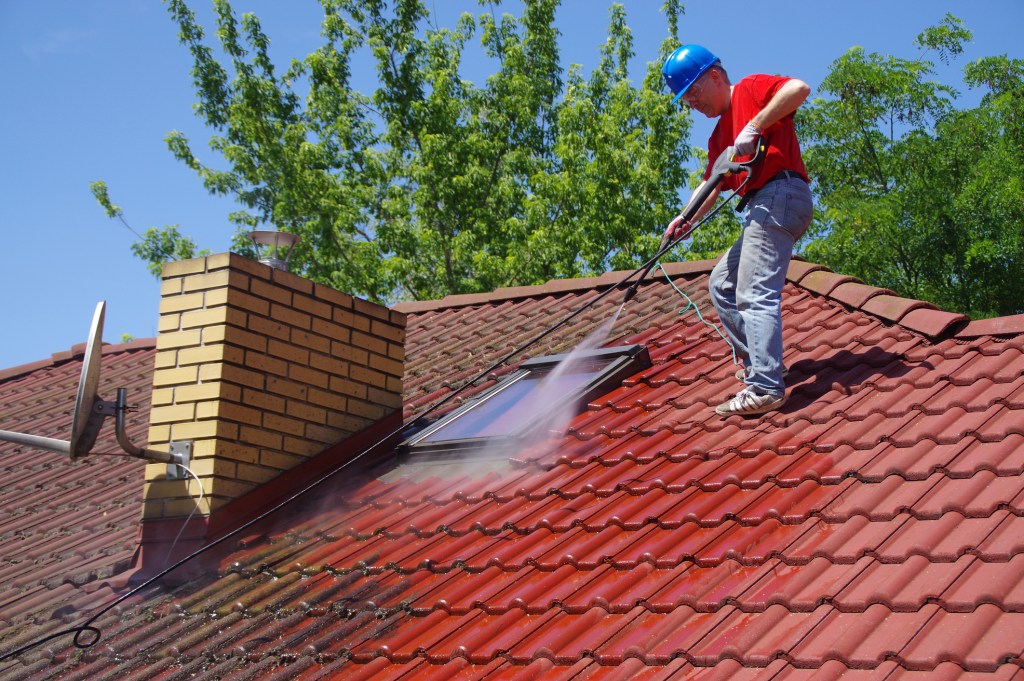 Concluding thoughts on how to remove moss from a roof
Removing moss from a roof can be a straightforward, do-it-yourself project. Ensuring the roof is inspected correctly before removing moss growth can simplify the removal process. Cleaning the roof with care is the best method.
Subsequently, understanding and inspecting for additional potential roof damage is key to mitigating regrowth during the removal process. Use the best resources for removing moss to ensure your roof stays sustainable and damage-free throughout its lifecycle.
Editors' Recommendations