The attachments you get for your vacuum will help you perform better with cleaning around your work area. Attachments are usually very simple to install and can fit onto most standard-sized vacuum hoses. They simply attach on and stay when pushed down to secure them. This makes them the perfect versatile tool in your cleaning kit. You can hand it off to anyone, and they will be able to easily get it on to get the job done.
The vacuum attachments you find usually come in four main types: an upholstery attachment that can catch lint off fabric, a dusting brush that can handle delicate surfaces like lampshades and blinds, an extension wand to help you reach into more difficult places, and a crevice tool that is tapered and angled to fit into tight corners. Find yourself the right kit with the ones you need and be prepared for any cleaning situation in the office or on the job site.
GIBTOOL Vacuum Accessories Cleaning Kit
Best Overall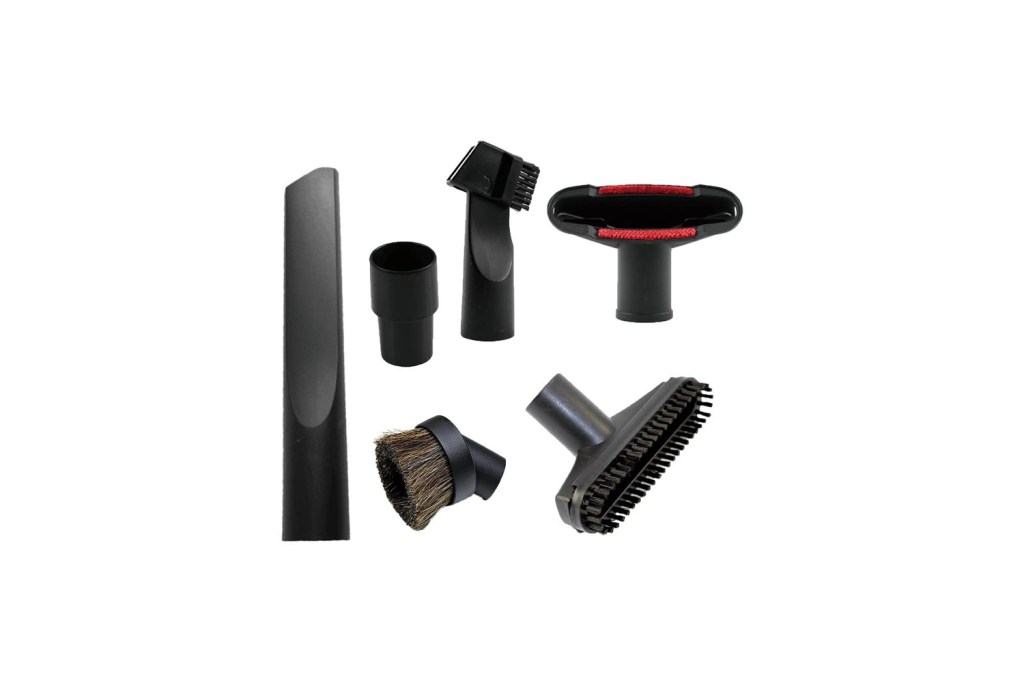 The GIBTOOL Vacuum Accessories Cleaning Kit equips you with everything that you need to take care of any cleaning chore. One attachment is made specifically for upholstery, so you can clean up sofas and other upholstered items around the office. The nozzle combination tool is meant for tight spots and dusting shelves. The horsehair bristles are great for ventilation systems. It also has an attachment for wet or dry vacuuming and has a detachable brush for floor cleaning.
EnviroCare Hardwood Floor Brush
Best With Soft Bristles
When you have more delicate flooring that requires softer bristles, the EnviroCare Hardwood Floor Brush has got you covered. The attachment is made to clean up large swaths of hardwood flooring. The bristles are soft, so clumps of dirt and debris do not get caught up within the bristles but instead get sucked up immediately by the vacuum. It fits most standard nozzles for vacuums. It can easily be maneuvered around to clean up your space in no time.
Sealegend Dryer Vent Cleaner Kit Vacuum Hose
Best for Dryer Lint
Pesky dryer lint buildup will be a thing of the past with the Sealegend Dryer Vent Cleaner Kit Vacuum Hose. This attachment removes built-up lint in your dryers, so you can have your dryer running at maximum capacity. The suction can be switched between two modes depending if you want a deeper clean or a light cleanup. Removing lint buildup is important so that you can avoid starting fires within the dryer vent.
Do not go without this wonderful array of conveniences. Getting yourself the right tools for you will make a world of difference when cleaning up your workspace. Look into these attachments and see which ones you need for your sofas, cars, and fans. You will be able to get so much more done in half the time. Give yourself a break and let the vacuum do the work for you.
Editors' Recommendations