Buying a food truck may be the first purchase you make in building your food truck empire. Most food truck pros will agree: The truck is the heart and soul, but the equipment makes the magic happen. How can you bring your food menu to life without stellar equipment?
Whether you rent, lease, or purchase outright, you need quality tools to prep, cook, and store food and ingredients. Part of planning out your expenses for a food truck business involves equipment. Whether you've only purchased for a restaurant or have no clue what costs and options are for food truck equipment, you need to know. Read this purchasing guide to help inform your budgeting and make the right business moves for your food truck.
What equipment do you need for a food truck?
Most of your purchases for equipping your food truck will happen online. You may find a retailer in your area that sells or distributes for a major carrier, but your local hardware or appliance store may not cut it. One of the biggest retailers of kitchen and restaurant equipment is Webstaurant. All the price ranges listed below were pulled from this site, too. They'll carry the essentials, such as:
Griddles
Ranges
Fryers
Refrigeration units
Prep stations
Dishwashing stations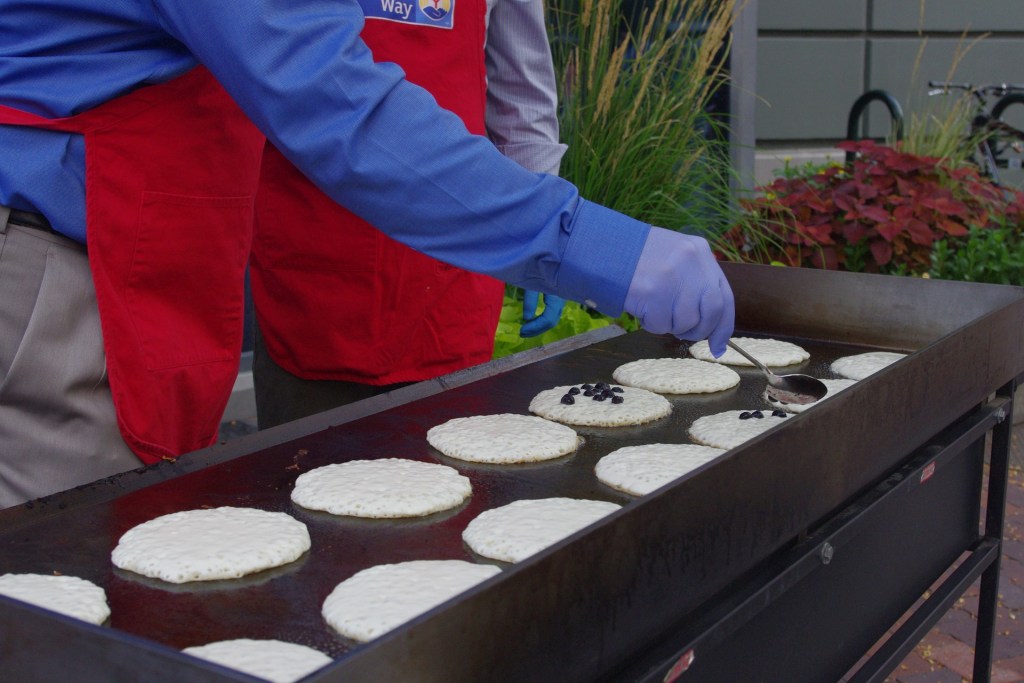 Griddles
Griddles are essential to any food truck, but a ventilation system must accompany them to catch grease and release smoke and fumes. You may even need to install a sprinkler system, depending on local regulations and ordinances.
When purchasing a griddle, you can choose between manual and thermostatic controls. Manual griddles allow you to choose from several heat settings. Thermostatic griddles give even more control over the heat but are more expensive. Some griddles come with high walls to prevent grease splashing.
Ranges
Ranges are another valuable piece of food truck equipment. These come with two to six burners. More burners mean a bigger range, but they take up more space in your truck. It also means you can cook more and multitask more.
Fryers
Not every type of food truck needs a fryer, but many do, based on the menu. If you plan to use a fryer, you'll need to follow fire safety laws. There are different sizes, with many baskets and even separate oil tanks to increase food production.
Refrigeration
Refrigeration is necessary for storing ingredients you prepped elsewhere and your other ingredients. It's important to follow local health and safety codes and measures to ensure your refrigerator doesn't need ventilation. With so many types of refrigeration units, it's important to consider worktop space and weight capacity.

Dishwashing stations
Most health and safety regulations require dishwashing sinks. Three-compartment sinks can accommodate most kitchenware. You'll need another space for handwashing, too. Consider features to prevent splashing and contamination.
How much is equipment for a food truck?
Choosing food truck equipment shouldn't be just about price. You need to prioritize your food truck's layout, read user reviews, consider equipment durability, know how you'll operate, and more. There are other things that affect price, like composition and more.
Chrome: Reduces flavor transfer, retains heat, provides delicate food cooking (pastries)
Polished steel: Durable, heats quickly, offers maximum efficiency
Stainless steel: Ideal for most applications and settings
Other details, like fuel sources, can drastically impact production capacity and overall cost. Make sure you know which fuel sources best meet your needs: electric, gas, or propane.
Gas grills: $400-$22,000
If you serve burgers, eggs, grilled vegetables, and more, commercial gas griddles and flat-top grills are great choices. Standard, medium, and heavy-duty models are ideal for a low- or high-volume kitchen in your food truck. Choose a grill according to the types of food you plan to prepare and your preference for heat retention or quick heating.
Different widths and plate thicknesses make a gas flat-top grill ideal for your kitchen space and your production volume. Choose between manual and thermostatic control options for consistent or precise control over temperatures.
Electric griddles: $275-$22,000
If you plan to make pancakes, eggs, chicken, vegetables, and more in your food truck, then a commercial electric griddle is an excellent choice. You can choose between standard and heavy-duty models. Like the gas griddles, you have a range of cooking surface materials to choose from for maximum heat retention or quick heat-up.
Countertop electric grills are available in various widths and plate thicknesses, so you can select one according to your kitchen setup and production volume. Many flat-top grills are energy-saving models.
Gas range: $450-$5,000
A countertop gas range is a smart place to start with your food truck business. Standard-duty ranges work well for low- to medium-volume businesses, while heavy-duty units are ideal for high-volume establishments. Both standard and step-up style ranges allow you to choose the perfect unit for your food truck business's specific needs.
Additionally, some models include a griddle plate perfect for preparing breakfast foods, burgers, and grilled sandwiches. Some of these units are even NSF Listed (National Sanitation Foundation), so they're easy to clean and help you prepare for health inspections.
Refrigeration: $630-$12,000
Blast chillers
Dipping cabinets
Freezers
Prep refrigeration
Refrigerators
Concluding thoughts on purchasing food truck equipment
This is most of the food truck equipment you'll have to consider for your food truck business. Because food trucks are an intensive environment, warranties vary from brand to brand. Check to see if the items you're considering have warranties and the length of the warranties. Also, be sure to check with your local jurisdiction to confirm your food truck design and equipment selections meet their rules and regulations.
Editors' Recommendations