Carrying tools to a job site or just for projects around the house? The right tool bag can make all the difference. There are all kinds of different materials and designs, so it can be tough to choose the right one.
The right tool bag is durable, gives you organization options, and follows your own design preferences. If you aren't sure what type of tool bag to use, we've got you covered. No matter what you need from your tool bag, we can find the best tool bags for you. Let's take a look.
Canvas bags
Before you skip this section because your only experience with canvas is cheap grocery sacs, take a second to trust us. These aren't just any canvas bags. Tool bags use a durable form of canvas that's water-resistant and resists both tears and rips.
Durable canvas is a suitable option because it's soft and flexible, yet tough enough to hold heavy things. Specially coated canvas, similar to durable canvas tents, protects from the elements.
The style of canvas bags varies. Many have vinyl bottoms for extra durability, and the straps have reinforced seams to withstand the weight. The zipper must be heavy-duty so that it doesn't snag.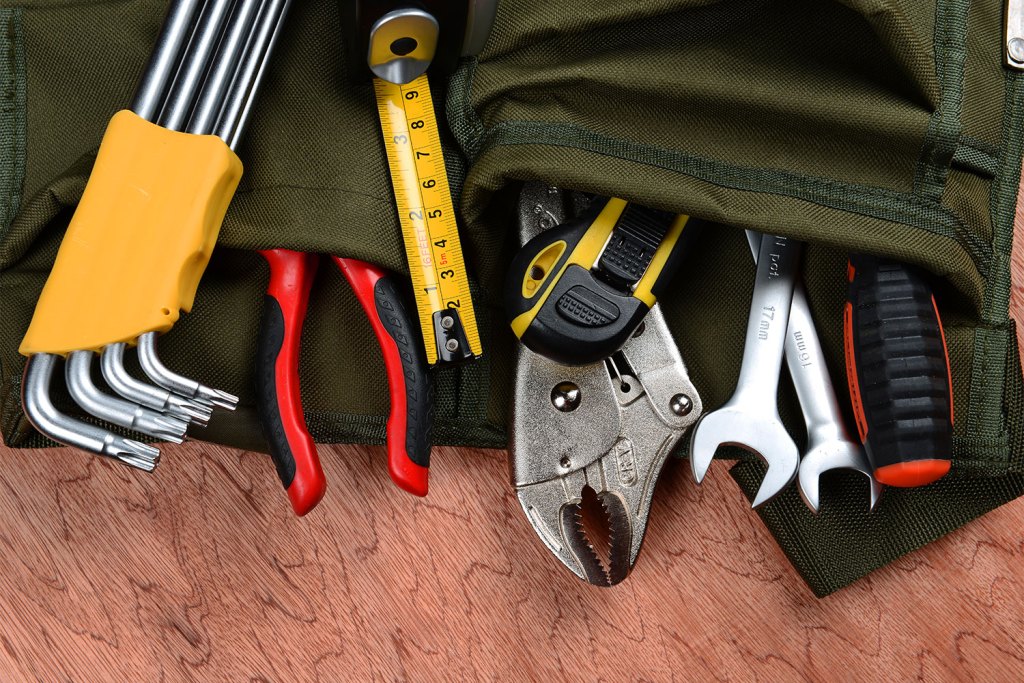 A wide-mouth option with a reinforced metal framing helps keep the bag open, giving you more accessible sights on your tools. Look for plenty of pockets and organization sections to help you keep track of tools, both large and small.
Canvas bags are suitable for people who don't want a lot of fuss with their bags but prefer the flexibility of a soft shell. They're also great because some of them go straight into the wash, refreshing their exterior and getting rid of marks and wear.
If you have a lot of delicate tools, canvas may not offer enough protection. Also, if you're the type who wants your tools to stay put in their slots, this may not be the best choice.
Leather bags
Leather, like canvas, offers some flexibility. Leather bags age beautifully, giving your tool bag a strong uniqueness the more you use it. Leather should be moderately weather-resistant, and it's often a breathable option.
Leather for tool bags is reinforced, tear and puncture-resistant, and reinforced, especially on the bottom. Seaming must be strengthened as well to help ensure straps stay put and that the base is strong enough to handle a bit of weight.
One of the best things about leather is how unique it is visually. Where canvas is a casual option, leather is an upgraded soft material perfect for specialized tools. Wide-mouth choices give you better visualization while the bag is open, and a durable zipper is a must to avoid snagging.
Some leather bags have an extra layer of vinyl on the bottom to make them waterproof and stainproof. Leather is easy to clean with a gentle damp cloth, but you won't be able to toss them in the wash the way you would with canvas.
One downside to leather is that it's sometimes expensive without offering molded organization slots or the protection of hardshell cases. However, for small collections of specialized tools, leather is an excellent option.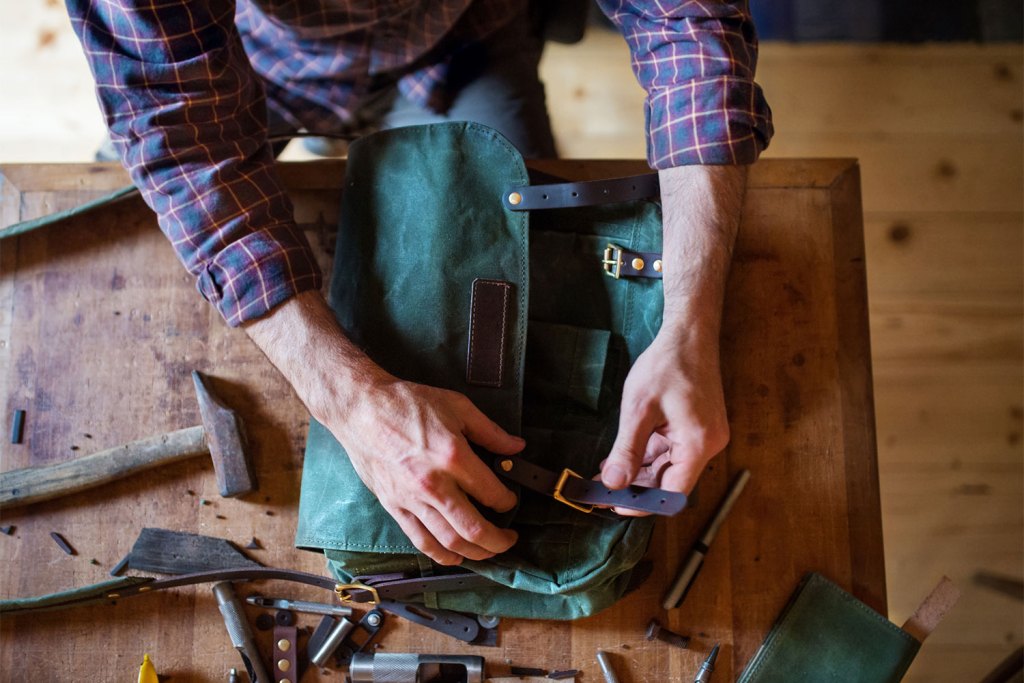 Hardshell cases
While not precisely a "bag," a hardshell case offers a specialized storage option for delicate tools. It also provides better organization if you have a ton of smaller tools, such as screwdriver bits.
Hardshell cases are some of the most durable options, allowing you to protect your tools in an extreme job site and providing an automatic organization through molded slots. They also seal completely, are very weather-resistant, and easy to clean just by wiping it down.
The downside to hardshell cases is that they aren't very flexible, and sometimes they're heavy. They may not slide under a seat or sit right where you need them to. And with a simple handle, you won't be able to sling them over your arm to use both hands for something else.
However, for organization fanatics, they're beautifully efficient. And if you worry about stains, moisture, or oil, the hard exterior is much easier to keep clean and looking great. Plus, they're tear- and puncture-resistant and often affordable.
If you're looking to invest in new tools and a case, a hardshell is often a good choice because the tool set matches the case itself. Beginners may want to go this route.
Polyester bags
Lightweight options or secondary bags are often made with simple polyester fabric. It's moderately durable, but most importantly, the material is lightweight. They are useful if you need something temporary or you want to pull out specific tools for a job without taking everything with you.
Also, for a budget option, polyester offers reliable material. Look for reinforced seaming and a durable zipper to make the bag more convenient. And while polyester may not be the most long-lasting, the material is an affordable alternative to more-expensive options.
Polyester is best to use as a backup bag or for an affordable alternative to something like leather. It'll give you a place to put everything you need. They're also easy to clean and maintain, and won't have you carrying a bunch of weight on the job site.
Choosing the right tool bag for you
Choose a tool bag that gives you proper storage and balances what you want to spend. Specialized tools may be better off in something more durable than polyester, but for a bag with quick functionality, polyester is a good option. Look at details like seaming and zippers to make the bag worth it.
With hardshell cases, you'll get the organization of your dreams, and leather will age beautifully. Consider what you want from your bag and how long you plan to keep it, and the best tool bags will keep you happy and your tools close by.
Editors' Recommendations