Your handmade shirts or bags will look professionally made with the right screen-printing squeegee. Special blades and handle ensure the ink comes on evenly on any fabric you're using. To help you achieve artisan quality results, we've rounded up the best screen-printing squeegees on this list for you to try.
Screen-printing squeegees contain two parts: The handle and the blade. Choose a handle that feels comfortable. Wood handles are popular, but they're more difficult to clean than plastic or metal handles.
Squeegee blades are often made of rubber, neoprene, or polyurethane. Keep in mind that rubber and neoprene are less durable than polyurethane. Their hardness is measured in durometers — a lower number means a softer blade. Take a look at our vetted choices for your printer.
Caydo Screen Printing Starter Kit
Best Set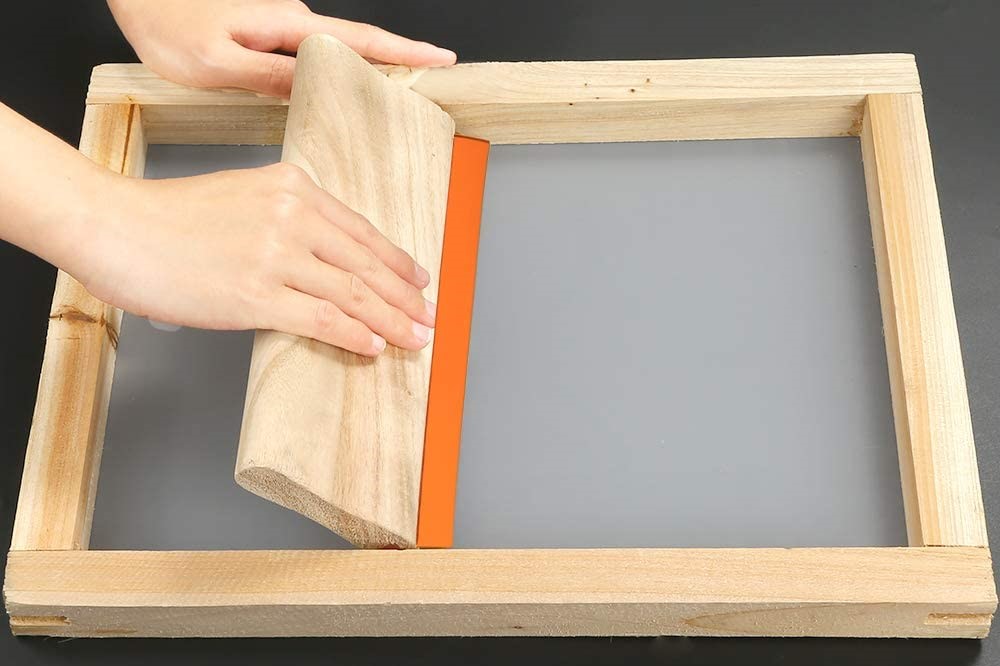 Whether you're just now venturing into or already a master of the craft, a complete screen printing kit is a must-have. This one from Caydo has it all: printing frames, plastic scraper, transparency film, wood stick, mask tape, and of course, the squeegee. The set also comes with instructions on how to use it. With this kit, you can immortalize your favorite patterns on t-shirts, canvas tote bags, and tank tops.
Speedball Art Products Dual-Edged Red Baron Squeegee
Best Value
The dual-edge screen-printing squeegee from Speedball can be used for fabrics and graphics alike. With a center grip in lieu of a handle, it's more compact and easier to clean than handle squeegees.
Speedball Nitrile Fabric Squeegee
Best Wooden Handle
This 10-inch squeegee from Speedball has a beautiful hardwood handle that screams "craftmanship". Ideal for fabric screen printing, the nitrite squeegee features rounded edges that will help push more ink through the screen for a pretty finish.
A screen-printing squeegee is necessary if you want to create your own tees, bags, and other graphics. Whether you choose a metal or a wooden blade, make sure it feels comfortable in your hands and is easy to clean. Furthermore, the blade's hardness and shape depends on what products you're crafting. With any of the squeegees on our list, you'll be on your way to screen printing like a pro.
Editors' Recommendations