Many stands now come with adjustable bottoms that grip onto your laptop more securely while also helping you avoid scratching your device. The design of these types of stands stores laptops in the open air, increasing airflow and helping them cool down quickly.
Vertical laptop stands can be helpful to those who need an organization method for their devices. A laptop can take up a lot of space on a desk, so it is important to keep it tucked away when not in use. When vertical, you can slip the laptop into comfier spots. Making room for your other tasks cannot get much easier than that.
OMOTON Double Desktop Stand Holder
Best for Multiple Devices
The Omoton Double Desktop Stand Holder can hold up to two devices at once so you can store all of your go-to electronics within reach. The width of the double-docked laptop stand can adjust to accommodate your devices. The silicone mat at the bottom provides a groove to prevent scratching and stabilize the laptop. The sleek design is elegant and simple, and it will garner attention without clashing with the room's decor.
OMOTON Desktop Aluminum MacBook Stand
Best with Adjustable Size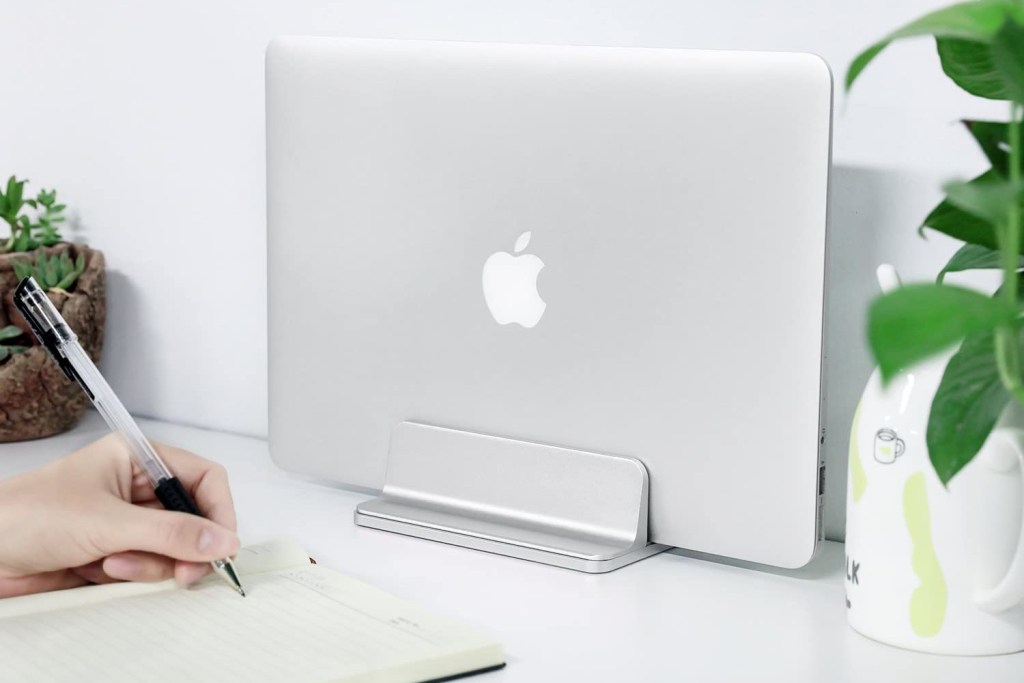 If you have a bulkier laptop that you are worried about fitting into a stand, or if you use multiple devices on the same stand, the Omoton Desktop Aluminum MacBook Stand will help you out with that problem. The width of the stand is adjustable to fit the desired device snuggly within its protective bottom.
JARLINK Vertical Laptop Stand
Best Value
If you find yourself in need of a stand, but you want to be conscious about the price, then the Jarlink Vertical Laptop Stand is the right fit for you. The anodized aluminum stand is scratch-resistant and durable, so you can place it anywhere on your desk or on a shelf. The stand is compatible with not only laptops but with other devices, too, like tablets. This stand will keep your device safe and sound from any accidental spills that may happen on your desk.
It's important to take care of your laptop and other electronic devices. Having a stand in a workspace or shared living space keeps your devices within reach and also allows you to quickly store your devices when you want them out of the way. Take care of your things, and they will take care of you in return.
Editors' Recommendations