Roofing work is a valuable investment for any business or property owner. Whether it's maintenance, repair, or total replacement, roofing upkeep is expensive. When you outsource this work, the challenge lies in finding the right contractor for you.
Not all contractors charge fairly. Some lack experience with your specific needs. Others may not provide the level of service you expect (e.g., communication and project length). However, choosing the right contractor shouldn't be that difficult. Read this guide to learn how to hire a roofing contractor for your needs.
How do I find a good roofing contractor?
Your best bet on how to hire a roofing contractor starts with asking the right questions. Here's what you should know and what any experienced roofing contractor should be able to answer.
What types of roofing do you install?
Do you work with homeowners insurance for filing claims?
Is your license current and up to date to do this work in my area?
What types of insurance do you have, and what is the coverage?
Can you give me two or three references to check?
Do you offer free on-site inspection?
Do you take photos during the inspection and after completing the project?
Can I get a written quote after the inspection?
Do you do roofing repairs? How much do they cost?
Is your work covered by a manufacturer warranty?
What do you use to keep projects on time?
What's your inclement weather policy?
Do you remove or dispose of old roofing materials? Is there a disposal charge? Do you recycle old materials?
When and how do you bill or invoice? Do you accept credit cards? Do you offer financing options?
What do I need to know before hiring a roofing contractor?
Roofing contractors offer a variety of services. When you hire one, it's important to know just what they can do. Here's a list of some services provided by professional roofers.
Roof inspections that check for leaks and damage
Repairs and maintenance
Installation or replacement
Weatherproofing
Insulating
Ventilating
Shoveling (removing snow and ice dams)
Roof cleaning (pressure washing away mildew, moss, and buildup)
Sealing, treating, or painting (especially for wood or metal roofs)
Debris removal
1. Hire local
It's a recommendation to hire a reliable roofing contractor who is a local pro. You want a company that understands your region's specific needs. Architectural designs repeat in neighborhoods, cities, and states. Local roofers will know these details better than outside developers and builders.
They'll also understand local building codes better than others. And investing in a local roofing company helps support your community. When you invest in local contractors, you keep a more extensive network.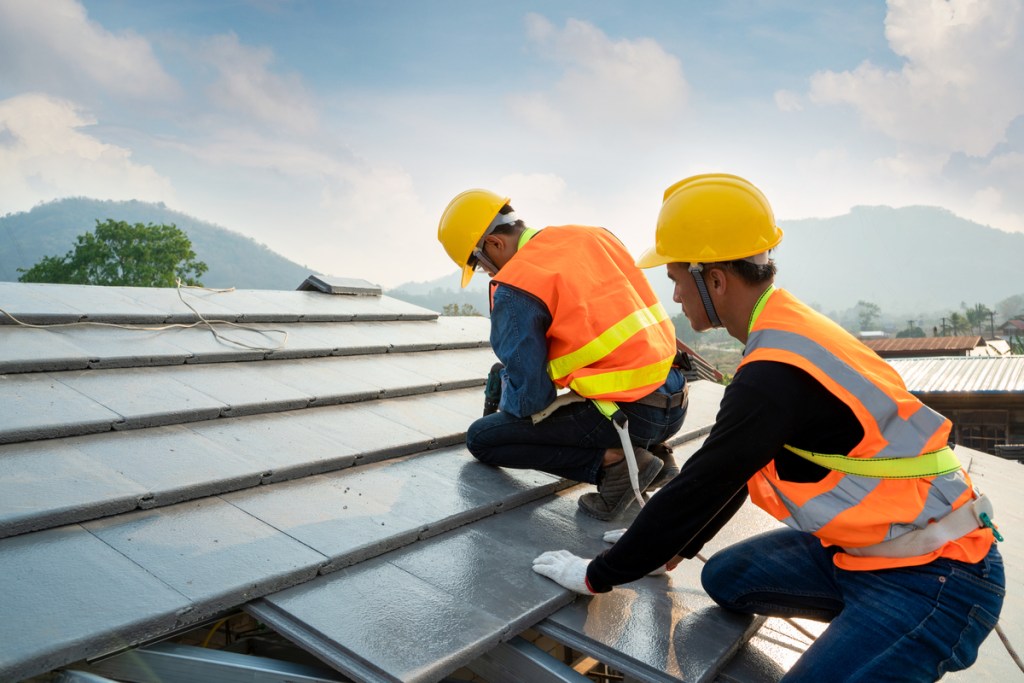 2. Check the paperwork
When you're wondering how to hire a roofing contractor, you also need to check the paperwork. Ensure whoever you hire has the appropriate contractor's license for the work you hire them to complete. Protect yourself by asking about insurance on the employees, too. Your homeowners insurance may not cover any incidental contractor work. Also, inquire about warranties for any roofing repair or installation.
3. Ask for work history
You can always make sure you're hiring a qualified contractor when you ask for references and work history. A contractor's portfolio can demonstrate their specialty with different roofing types and unique problems. It's hard to fake experience, so you know you're hiring someone trustworthy when they provide a solid work history.
4. Read the reviews
A good roofing contractor has, at the very least, a Google Business listing. This virtual directory provides basic contact information, such as the business name, address, and phone number. It also allows customers to leave reviews.
Not all reviews are equal or credible, but authentic reviews usually stand out. A roofing company may also be on other service or directory sites like Yelp and Nextdoor. Check these sites for reliable testimonies from past customers.
If a roofing company has a website, check it for reviews. The best way to know how to hire a roofing contractor you can trust starts with work you can trust based on feedback from people just like you.
5. Get multiple quotes
If you're in an area with tons of contractor options, don't be afraid to ask for multiple quotes. You have every right as a customer to get the best deal. When you shop around, you can use it to negotiate a potentially better deal. A good roofing contractor knows when to strike a discount to develop long-term relationships with customers. And in roofing, long-term clients are the best for business.
Editors' Recommendations