Copy machines are rarely just for copying. Often, you're paying for the included scanner and printer, too. If you're looking at a basic copy machine, it may only include a scanner. When you're buying a copy machine, take note if you need certain extras, such as:
Faster printing speeds (pages per minute)
Top-of-the-line copy rates
Auto document feeders (ADF)
High-resolution scanning (DPI)
High tray storage capacity
Ink tank vs. cartridges
Determine your copying needs before you purchase one. Figure out how much space you want your copy machine to take up. Assess your ink and toner budget (based on what your office space can accommodate or what you're printing). Read on to learn what affects a copy machine's cost and where you can splurge or save.
Average costs for different types of copy machines
Once you've assessed your copy and printing needs, you're ready to shop around. You'll find different types of copy machines range from initial to monthly and annual costs. This is based on non-renewables like ink, toner, and paper. Keep reading so you can stop wondering, "How much does a copier cost?"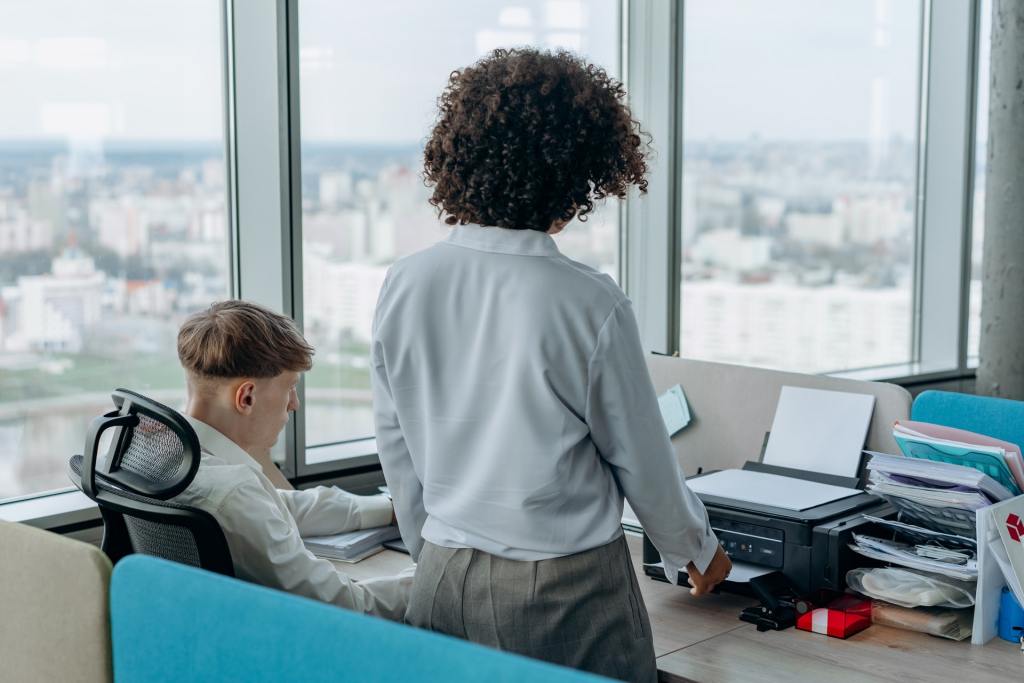 Black and white (basic. all-in-one machine)
Black-and-white printers are ideal for many uses. If you're printing legal documents, medical records, a book, office memos, or other basic monochrome docs, this kind of printer fits your requirements. If you need a copy machine, choose an all-in-one or multifunctional printer. Some printers only come with a print function, but others come with scanning functions and more.
The average cost for black-and-white printers ranges from $120 up to $2,500. This range varies greatly based on your choice of ink (cartridge vs. toner), print capacity, and anticipated output. The higher performance you need, the more you'll likely have to invest.
Color (all-in-one machine)
Color copiers cost more (if you need them to print). If you're looking for something in a small capacity for individual or home use or a small team, this may be a good option for you. The color payoff, ink density, and high-resolution scanning increase the price for color copy machines.
The average price for all-in-one color copy machines ranges from $250 to $2,500. This price varies for similar reasons as the black-and-white copiers. More capacity and higher-quality scans and copies cost more.
Business class (high-volume machine)
If you're in a shared office space, have an entire floor for your own business, or ship and deliver large industrial packages, you need a business class or high-volume copy machine. These are the most useful for efficiency, large batch printing, and streamlining operations.
High-volume devices are the most common type of copy machines used by businesses owners worldwide. You'll find the greatest print load, fastest scanning speeds, and highest resolutions with these machines. The average price runs from around $2,000 upward to $10,000.
Extra features worth paying for
When you see the wide range of pricing available based on the type of copy machine, it might seem daunting when making a purchase. You'll find there are certain extra features worth investing in for long-term cost reduction or meeting your overall needs. Here's a brief breakdown of these extra features.
ADF trays
Auto document feeder trays are helpful for efficiency and multitasking. These handy extras allow you to order X number of batch prints at a time without feeding the paper into the copy tray. If you do large batches of copying, consider investing in this extra feature.
Print/output trays
Printing and output trays expand your options to increase batch printing loads for any copies you make. The larger your print and copy batches, the less you have to reload and remove paper and copies. When you can walk away from your copy machine, that's more time to grab a coffee or get on with other work.
App integration
Modern copiers come with app integration and wireless connectivity. Whether you're backing up print jobs to the cloud, managing documents, controlling cost, or maintaining security apps, consider a copier with this modern touch.
Card readers
Card readers are a great way to grant access and manage costs in large offices with high printing costs. If you want to maintain a marginal overhead, consider a copier with RFID card readers to minimize excessive print batches.
Data security
If you do invest in a copier with cloud access and other smart features, consider data security. A printer's hard drive can be hacked. If you're printing sensitive material, you'll want a copy machine that comes with digital shredding and data encryption.
Editors' Recommendations