If you work at home, in a shared office space, in a private studio, or in a prominent corner office, you likely use a desk. And desks are a vital place for productivity, strategizing, and brainstorming. But if your desk is full of clutter, you may not get anything done.
The usable space impacts your productivity and effectiveness on your desk. Even if you can work in a messy space, your mindset may have a negative impact from the disarray. Crowded desk space can increase stress and anxiety surrounding your sense of accomplishment.
Fortunately, there are desktop organizers to help you sort any mess. You can find a tabletop organizer for documents, devices, portability, and more. Read on the discover the best desktop organizers for your needs.

Best for document organization
Easily the most common thing on any desktop is paperwork, bills, and other documents. And paper takes up a lot of space. Plus, it's a mess that can stack up. The best tabletop organizer for you might be a document tray. The Simple Houseware Stackable Desk File Document Letter Tray Organizer is the key to your paperwork issue.
Its three tiers allow you to sort different documents, notebooks, notepads, and more to organize your desk space. It features a high-quality mesh construction and the rubber feet keep your desktop free of scratches. The stacking design also means it won't take up precious surface area on even the smallest desk. You'll find your desk feels clearer than ever with this desk organizer.
Best for devices and tech
You may not be into tons of paper documentation. If this is the case, you might benefit most from a device desktop organizer. The Mind Reader 8-Compartment Plastic Accessory Holder includes a portable charging station.
If you're constantly plugged in, this is the best desk organizer for you. You'll find slots for different tablet and mobile phone sizes. And if you hate cluttered charging cables, it comes with indentations to help guide cords. The three-port USB hub means you'll never have to worry about not having a charging port. If you're into a minimalist desktop, this ensures a lack of technology clutter, too.
Best for desk drawers
Maybe you've already got desktop organizers for documents and devices. If so, consider organization within your drawers. The Container Store offers tons of options and finishes, and you can always use drawer organizers on your desktop, too. The Silver Mesh Drawer Organizers Starter Kit may be for you.
You'll find that simple document trays can hold these drawer organizers in place of a large multifunctional tabletop organizer, too. If you need somewhere to store extra office supplies like paper clips, binder clips, and writing utensils, this is a great option. Plus, if you want a clearer desktop, you can always store things in drawers.
Best for customizable organization
Do you want to personalize your desktop organization? The Like-it Large Desktop Station is a clear, multi-compartment organizer that offers customization. It comes with removable compartments and portable dividers to vary section sizes.
You can adjust different sections based on whatever you need to sort. Whether it's pens, pencils, scissors, or paper clips, this organizer has you covered. Made from lightweight polypropylene, this affordable organizer doesn't add heft to your tabletop.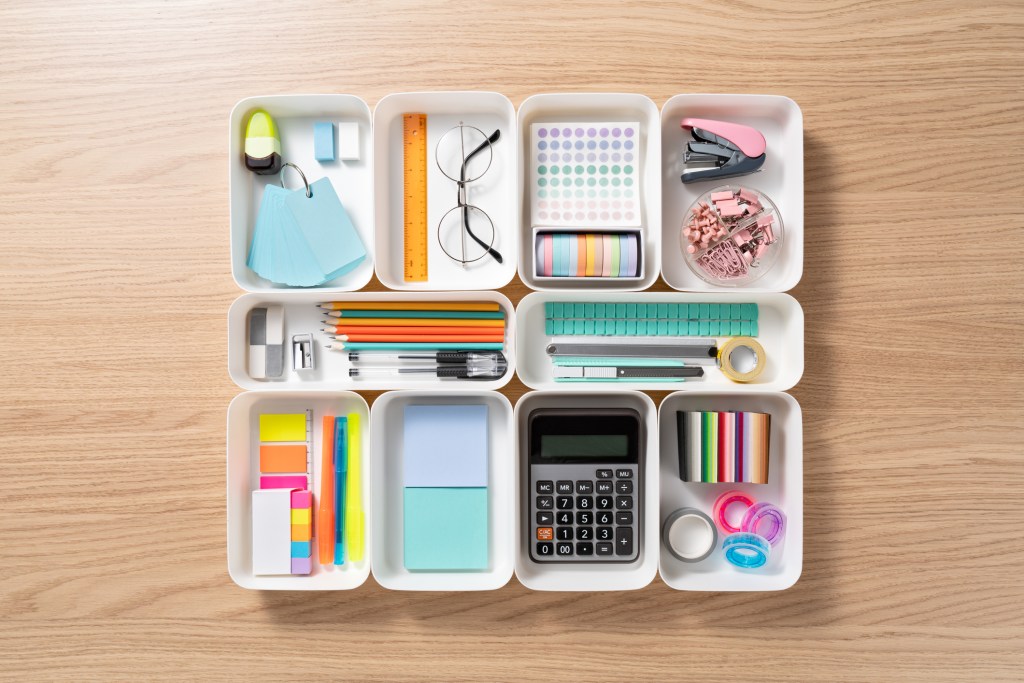 Overall best desktop organizer
With so many desktop organization options, it may not seem as if there's a best overall choice. However, you can find something with durability, versatility, and affordability as the best office organization product. The Innovative Storage Designs Desktop Organizer comes with varying compartment sizes for supplies and papers of all sizes.
It's clear, so you can easily see everything inside. This product is also cheaper than other organizers with modular components, and it even offers more versatile storage. Compared to other plastic organizers we tried, it's sturdier, too.
This tabletop organizer doesn't require any setup, as it's one solid piece, and you don't have to worry about parts sliding around or falling off. Its single-piece aspect also helps cut costs on various module pieces, too.
This Innovative Storage Designs desk organizer measures 5 inches tall, 6 inches deep, and 12.5 inches wide. You can store it easily behind your monitor, and it doesn't take up too much surface space on your desktop, either.
Use the small, shallow storage areas for like-size office supplies, such as pushpins, paper clips, and even coins — this makes them easy-access spaces for these items. The pen cup has four sections to keep things upright and sorted. There's also a flat tray that's perfect to keep sticky notes that you write on from that location.
Editors' Recommendations