Before you can grow your real estate business, you must know where you're going. In fact, the Harvard Business Review notes that a purpose-driven business plan "answers central questions such as 'Where are we now?' 'Where do we want to get to?' and 'How are we going to get there?'" Moreover, plenty of research shows that those who commit to writing a business plan for real estate increase the chances that their businesses will succeed.
By putting together a proper real estate business plan, you can help ensure that you meet the goals you've established for your business and yourself. So, let's look at some common questions about how to write a real estate business plan and then focus on the specific elements you should put into them.
What is a real estate agency business plan?
A real estate business plan is a document that outlines a real estate agency's primary points of business. It also details how it will compete and succeed in its market. Think of your business plan as a road map of sorts. Just as a map shows the route from point A to point B, a real estate business plan will go into detail about where you are now, where you want to be in the coming years, and how you plan to get there.
Why do you need a real estate business plan?
Your real estate agency needs a business plan because within it, you're able to give those responsible for providing financing a clear picture of you, your business, and what you can bring to the table. For example, if you're trying to secure a loan from the bank, they'll want to see your business plan. The same is true if you're trying to raise equity from a private investor. You may also need a business plan if you ever want to create a partnership or joint venture.
What's your time frame?
There is a typical range when it comes to business-plan time frames. For instance, most are in the range of three to five years. Some are less, and others are more. It really depends on where you are right now in your business growth. No matter how far in the future you intend to plan for, you need to make sure that whatever you put down on paper is as objective and honest as possible. Moreover, your stated goals need to be things you can reasonably achieve.
What should your real estate business plan include?
In general, the individual components of your business plan should include the following:
Executive summary
An executive summary sets out a concise overview of you, your real estate business, and your overall goals. A typical summary is anywhere from one to two pages in length and includes the following elements:
A description of your services
A summary of your objectives
A snapshot of your market
An overview of the strengths and weaknesses, opportunities, and threats in your market
A brief outline of your business' capital or partnership needs, if any
There should be no fluff or padding in your executive summary. It's essentially your real estate business' elevator pitch. It's a quick chance to hook and sell others on your vision for the company's future.
Overview and objectives
This section can vary widely based on the specific needs of your business. However, it should always include a mission statement, your company's history, and your overall objectives.
Now, when it comes to your mission statement, all you need do is put together a sentence or paragraph that provides information on the reasons you're in business and the principles that guide you.
An excellent example is Century 21's mission statement, which reads as follows:
"We are dedicated to serving our clients, families, colleagues, and community by operating morally and ethically to develop long-term relationships."
A bit vague, perhaps, but you don't have to create a manifesto with a mission statement.
As for the section on your company's history, you simply need to include details like when your company began. Other details include things like:
Where your offices are located
Who are the members of the leadership team
Milestones you've achieved
An overview of your services
The objectives section lays out the primary goals you have for your company in detail. Again, these goals need to be reasonable and achievable in the time frame you've established in your business plan.
What else should a real estate business plan include?
There are a number of other sections your real estate business plan needs to be complete. For example, you'll need sections on:
Market opportunities and competitive analysis (you should outline where market conditions can allow your business to grow.)
A Marketing plan (You'll need to identify and detail how you plan to reach and convert your target market.)
A Financial plan ( You'll need to provide honest and accurate details on the economic health of your real estate agency.)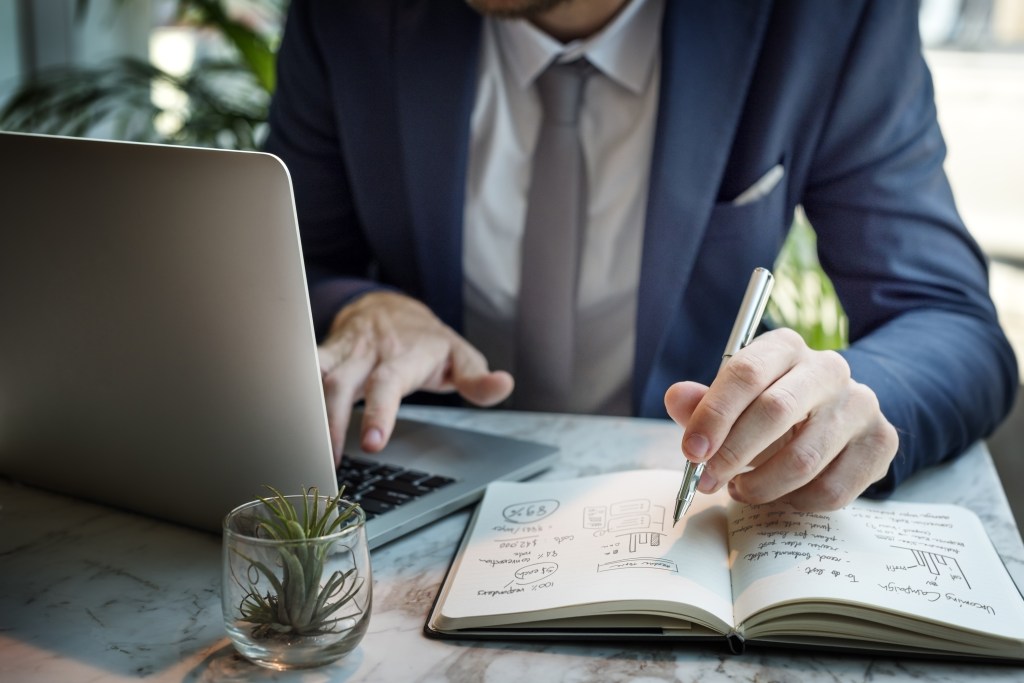 Revisit your business plan periodically
Business plans are rarely a "one-and-done" undertaking. Every so often, you should revisit your plan and make revisions as necessary. Remember that business circumstances change, and sometimes they do so sooner rather than later. You should therefore plan on evaluating the progress of your business periodically.
It's pretty common to discover that you may be behind in reaching some goals while you're reaching other milestones with ease. Revise strategy and estimations on goals you're not hitting and then make new goals for every one you've reached.
Editors' Recommendations