Construction workers labor daily to renovate our homes, erect our parking garages, build our schools and offices, and repair basic utilities. They work hard behind the scenes and also in high-traffic areas, often in dangerous conditions.
Construction workers use heavy materials and get dirty and dusty while being on their feet all day. In this environment, they need shoes that are durable, safe, strong, and long-lasting. Here are some of the best work boot brands available for construction workers.
Best construction work shoes
For both the general public and construction workers, Timberland boots are always a popular choice for durability, and for being visually attractive as well. And the steel-toed option is safer in work areas where sharp equipment might be dropped on toes and cause injury.
Timberland arches are supportive and the leather is top-quality and soft, so the boots move with you while you work without losing their strength. This feature combined with good padding means your back and legs feel more supported too while you're on your feet all day and carrying heavy items.
Some versions of Timberland boots also meet safety standards for being slip-resistant, which is another important consideration in outdoor conditions or where oil might be spilled.
The Wolverine Soft Toe Work Shoe is an affordable option that you can find on Amazon. The boot's full-grain leather is waterproof and its rubber outsole is slip-proof, which is a great option if you're working in all kinds of weather.
There's also a removable foot cushion that comes in handy when you need it but offers some extra breathing room if you prefer to forego the cushion and take it out sometimes. The shoe comes in black, dark brown, and light tan and has an attractive design while being lightweight in feel.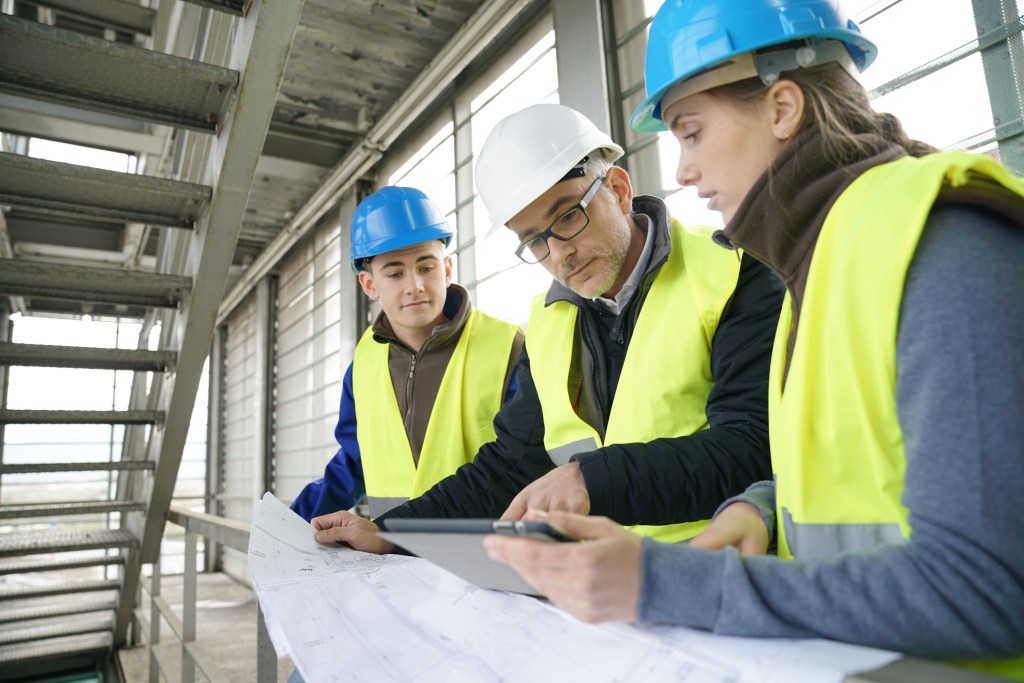 Caterpillar doesn't just make tractors. It's also in the construction and work boot business, applying some of that century-old American know-how to high-quality footwear for workers. Caterpillar's Steel Toe Work Boots are very sturdy and look good too, with oiled leather and lace eyelets styled as hex nuts.
They are slip-resistant with a heavy lug outsole that's sufficiently weighted to give you support while you're walking around a construction site. The steel shaft protects you from hazards that might injure your feet. But don't be fooled by all this hefty material. The insole is very breathable too so your feet don't feel hot and suffocated.
These construction boots are reasonably priced, made from Nubuck leather, and are sold by a reputable manufacturer, which makes them an ideal choice for today's busy workers.
KEEN Utility's Pittsburgh Steel Toe boot is really comfortable and also comes with a protective steel safety toe that's asymmetrical to allow more give when you're moving around. And there are two layers of lining that help air to circulate through the boots while you trek around from job to job.
The KEEN boot is waterproof with a nubuck upper and has a full-length torsion plate that helps ensure you won't accidentally twist your foot and injure your ankle. The boot is slip-proof and oil-resistant.
If your construction gigs are not heavy-duty and you're looking for a cheap boot to get the job done in less demanding circumstances, Ever Boot's Tank is a good basic option for you. It has a standard rubber sole and you can upgrade to the steel toe option if you want added protection.
This boot is found in the company's Amazon store and is very affordable. It's made from nubuck and has a steel arch shank, with rubber outsole material. This boot is not oil-resistant, so it's more suited to smaller household jobs and short-term work outdoors when you don't expect rain or difficult conditions.
This is just a sampling of the many varieties of construction boots on the market. Be sure to read the latest customer reviews and consider each boot's specifications when considering which brand and model is best for your type of work.
Safety, comfort, and durability are the top priorities when choosing your construction boot. And some of these recommendations are stylish, too, and come in appealing designs. Consider breathability, the level of protection you want from hazards, and the weight of the boot as well when making your final decision.
Editors' Recommendations