Whiteboards are a valuable tool for many spaces. You can use them in any industry for many different reasons. Let's examine a few examples of whiteboard uses for your business:
In break rooms or lounges for team updates, company milestones, birthdays, and more
In conference rooms for meetings, notes, quick references, planning, and more
In offices or cubicles for brainstorming, strategy recording, mind mapping, and more
These are just a few instances in which mounting a whiteboard is potentially helpful in your workspace. Whether you work from home or in a shared office space, a giant warehouse, or a corner office, you should know how to hang a whiteboard. You'll need to know what tools are best for mounting on which surfaces, too. Read on to discover what you need for hanging whiteboards in your workspace.
How to mount a whiteboard on different surfaces
You may need to hang a whiteboard on concrete, a flat or textured wall, cinderblock, a painted wall, or another surface. If you're renting a space, you may also have restrictions on drilling holes for mounting whiteboards.
Different textures and priorities mean varying needs for hanging a whiteboard. Plus, these boards come in many shapes and sizes, which may also impact how you hang them. Learn about hanging on different surfaces and the best materials for each below.
Hang with whiteboard hooks
Safety hooks are a simple option for small to midsized whiteboards with built-in hangers. If you live somewhere with lots of shaking ground (such as places where earthquakes are common), this is a great option, too. Many whiteboards come with pre-installed hangers, however, you'll need to buy and install the hardware before mounting or explore other options. Here's how to hang a whiteboard with hooks:
Measure spacing of the hangers on the back of the board.
Mark where you want your whiteboard on the wall.
Attach the safety hooks to the wall.
Put the board hangers onto the hooks.
Whiteboard hooks are ideal with drywall and potentially concrete if you have anchors and a strong enough drill. In most cases, drywall proves easier with hooks than other surfaces.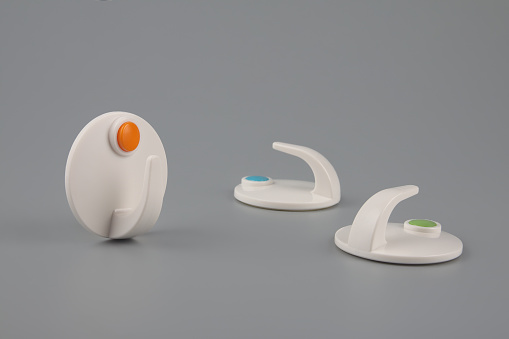 Hang with industrial-strength adhesive hooks
If your office space has flat surfaces, but you can't use wall hooks, consider adhesive hooks. Many rented offices restrict whether you can hang things on the wall. Here's how to mount a whiteboard using adhesive hooks.
Determine the whiteboard's weight, as adhesive hooks hold a certain amount.
Wipe down the area you plan on hanging the whiteboard with water and vinegar, dish soap, or alcohol-based wipes.
Place multiple adhesive strips along the length of the board. For smaller boards, strips in the corners will suffice.
Remove the backing to any adhesive strips. If the brand you purchase has specific directions, follow those.
Press firmly once all strips are adhered and then press firmly against the wall.
Hold each strip for around 30 seconds, so it stays in place.
The best surfaces to use adhesive strips on are flat, smooth, and generally untextured. Certain types of concrete may work if treated and laid flat. Most often, glass, untextured or lightly textured walls, metal, or polished stone surfaces work best. Test different characters before attempting to hang the whiteboard.
Hang with screws
Screws are great for whiteboards of larger sizes and more permanent fixtures. If you want to know how to mount a whiteboard permanently, you need to know how to use screws. Read on for a step-by-step guide.
Measure the width and length of your whiteboard. The width of your board determines where to place screws.
Divide the board length by the number of studs in the wall you're hanging it on.
Find studs in the wall you're mounting the whiteboard to using a stud finder.
Place the stud finder along the wall until it beeps. Or, you can knock on the wall and listen for the studs.
Measure between studs, too, so you know where to drill in the wall.
Drill a hole through the bottom and top of the board into the wall, aligning with the studs.
Align studs with drilled holes and insert screws.
Check with a level to ensure the board hangs straight and even. Adjust as needed.
Screwing in a whiteboard means taking your time. If you make a mistake, you can potentially move the board over any holes. Be sure to follow these steps for any drywall surface you plan to hang a whiteboard on.
Editors' Recommendations