If you spend the majority of your days running between job sites, there are essential accessories you can purchase to make your mobile office more functional. Your makeshift office can benefit from a portable desk, mobile Internet hot spot, and more to help you complete projects in a timely manner without sacrificing comfort. Read on to discover which accessory may be right for your mobile work space.
Car desk
A car desk is the No. 1 accessory on your must-have list. These portable trays provide a space for your laptop or writing pads, so you can get online tasks or paperwork completed on a comfortable, flat surface. Most car desks are also built with cup holders or phone cubbies to hold small devices and drinks as you work.
Choose a police-grade laptop mount for heavy-duty use that will hold laptops in place when not in use. These are easy to install using brackets and single-lever mounts.
On the other hand, a steering wheel tray is a more portable option. These clip onto your steering wheel and stay in place when you use them for working on your laptop, writing, or taking a lunch break. Some even clip onto the back of your passenger seat's headrest, so you can work in the back of your vehicle if there's limited space up front.
Mobile Internet
If you're working on the go, a stable Internet connection might be hard to come by. You can use your phone and personal Internet provider as a hot spot, but this may not be ideal for sending large-size documents or running large online programs. Separate hot-spot devices work like portable Wi-Fi routers that run on a battery. These pocket Wi-Fi gadgets last all day, and if you have a USB port charger in your car, you can easily charge them to stay connected at all times.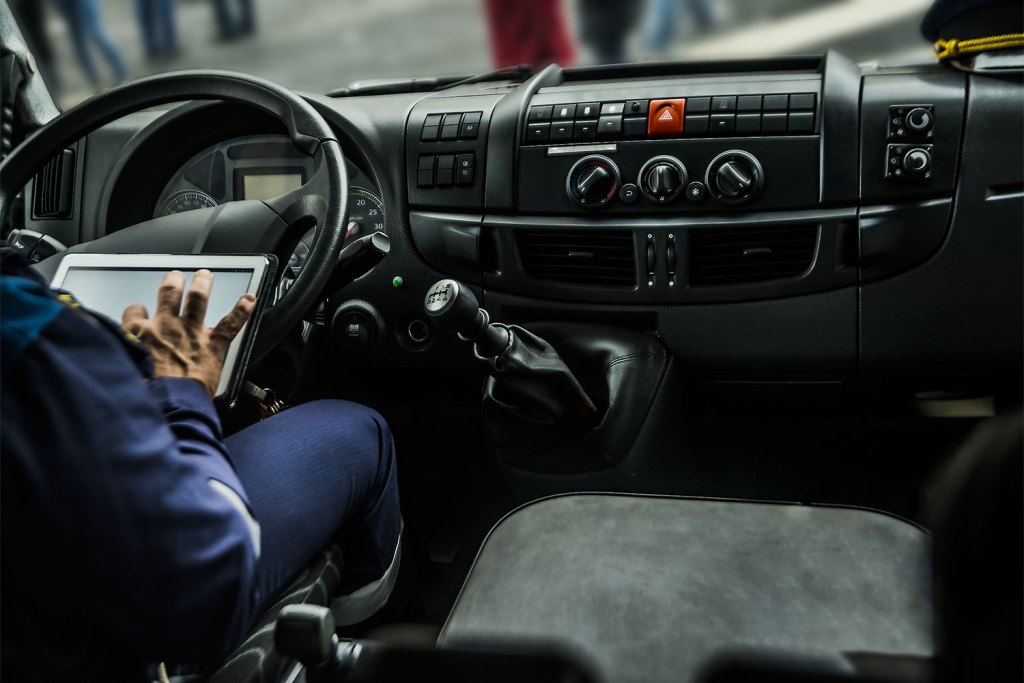 Beyond hot-spot devices, prepare for spotty Internet areas with a signal booster. These are especially made to improve your phone's signal even in the most rural areas. They ensure you don't experience dropped calls with important clients or time-sensitive projects.
Portable printer
All-in-one printers with printing, scanning, and faxing are ideal because they cover a wide range of uses on the go. Consider an inkjet printer if you work with photographs or documents with color-sensitive material.
By contrast, a monochrome laser printer is best for creating top-quality text documents. These types of printers ensure smudge-free and crisp results for professionally printed documents even when printed from your mobile office.
Most modern printers are compatible with SD cards or USB cords that allow you to print documents or photographs from your laptop, phone, or camera with ease. Other printers are Bluetooth-enabled that give you wireless control over the machine from your laptop or smart device.
Mini fridge for perishable foods and cold drinks
With a mini fridge, an inventory of ready-to-go food and cold drinks is one less thing you can worry about on the road. When you need a quick break or don't have time to drive to the nearest store during your lunch hour, a mini fridge stocked with prepped lunches and drinks will be your saving grace.
These mini fridges are powered through your 12v port, but another option is to use a heavy-duty compact cooler and ice packs.
Phone mount
A phone mount attaches to your AC vent, windshield, or dashboard, enabling hands-free phone use. These are used for navigation instructions or hands-free calling when you're on the road in legal phone-use areas. Most phone mounts are compatible with the average-size smartphone.
Some advanced phone mounts are voice-enabled to help with hands-free talking and phone control. Before purchase, make sure these voice-enabled products are compatible with your phone. For instance, the iOttie car mount features a built-in Alexa voice feature that's compatible with both iOS and Android users. Install the device onto your dashboard via suction cups and connect to your phone through an aux cord or Bluetooth.
Note that dashboard or windshield phone mounts are more adjustable than clip-on vent mounts.
Power inverter
Power inverters are popular with campers, truckers, road trippers, and of course, mobile-office workers. A power inverter lets you use regular household plugs by connecting to your car battery without damaging your car or your devices.
Connect the power inverter to your car battery via your cigarette port or another 12v socket. Keep in mind that this is best for lightweight use, but if you need large amounts of power, look into installing an extra battery. This also avoids overworking your battery, especially if you have a low-performance truck or SUV. Remember to keep power inverters cool, especially during the summer when you might leave your gadgets in the truck for safekeeping.
A mobile office requires some essentials and other luxuries to make your on-the-go workflow easier. Car desks, mobile-internet devices, and portable printers are a few essential accessories. Other equipment such as phone mounts, power inverters, and mini fridges relieve inconveniences such as accessible phone navigation, short battery lives, and unsteady supply of nourishment. Start with the essentials, and in time, your mobile-work station will outperform any traditional home office.
Editors' Recommendations