Don't get bogged down by the sheer volume of recyclables your home office churns out in a given week or by the unsightliness of the recycle bin you're currently using. There are better and larger options out there that can help you improve the management of your home office's recyclables. Count these recycle bins among them, especially when it comes to storage and size.
Recycle bins used in a home office don't need to be the universal "blue bin" variety. There are many bins on the market that come in attractive colors or are produced from appealing materials like stainless steel, making them a better fit for your home's office's decor or lifestyle. Take a hard look at these appealing recycle bins, which offer both style and function in big ways.
Rubbermaid Stackable Recycling Bin
Best Overall
If your recyclables are piling up, then make sure your recycle bin stacks up. That's what makes the Rubbermaid Stackable Recycling Bin great for easy storage in a home office. Multiple bins can be used at one time since they are nestable for easier storage and shipping. The bin's inboard handles ease lifting and carrying and meet municipality container requirements. Produced from linear low-density polyethylene, the bin can resist cracks, dents, or bows.
ANUANT Separate Recycling Waste Bin
Best for Separating Items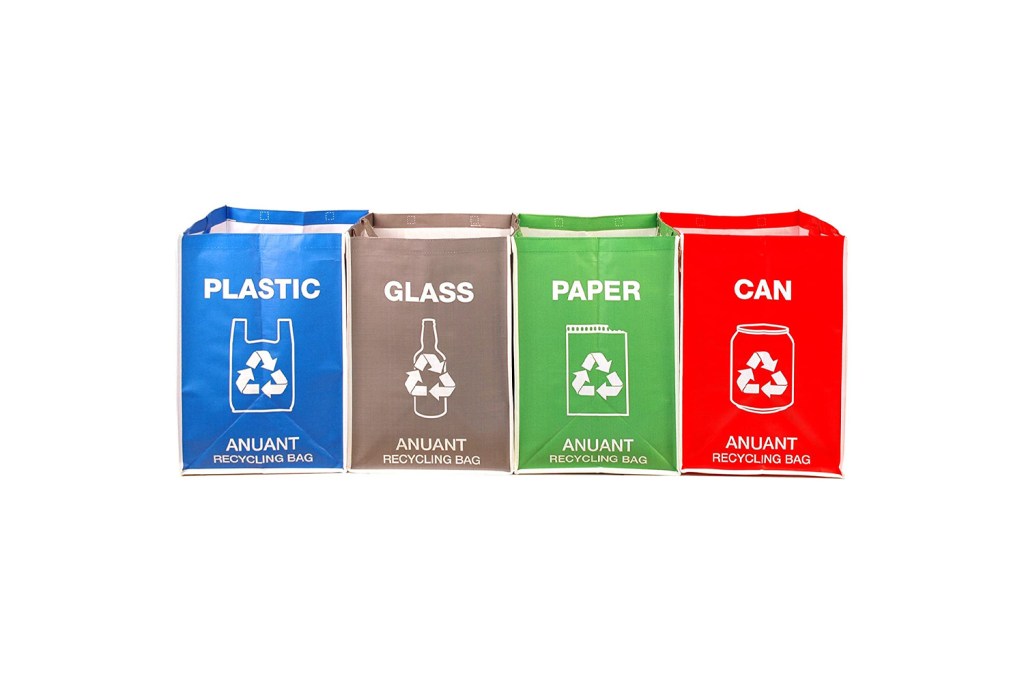 If an easy way to separate recyclables is important to you, then the Anuant Separate Recycling Waste Bin is a top choice. Highly ranked as a recycle bin for segregation, it features four compartments — labeled as plastic, glass, paper, and can — to help organize all recycling waste. Designed to be both durable and easy to clean, the sections separate conveniently with velcro and feature attached handles.
Rubbermaid Slim Jim Recycling Bin
Best With Vents
Seeking a good recycle bin with vents? The Rubbermaid Slim Jim Recycling Bin meets that criteria. Its bag removal venting channels are designed to make liner removal up to 80& easier to boost productivity and reduce the risk of a back injury. The bin's trash bag cinches help secure liners around the rim of the container and hasten knot-free liner changes. Its ergonomic handles at the base and rim resist tearing and help improve control while handling the bin.
Stay organized and on top of mounting recyclables by getting a higher capacity or highly segregated recycle bin. These buy-worthy models offer the capacity, functionality, and features you need to manage your home office's recyclables.
Editors' Recommendations