Highlighters are meant to draw attention to different parts of a document or text. When you mark something incorrectly, you then give the wrong word or phrase more attention than you originally wanted. This is what makes an erasable highlighter such an invaluable tool for note-takers and business professionals. Keep it on hand and you will always be confident that you are ready and can fix anything that may come by you.
We all have our reasons why we would want an erasable highlighter. Maybe you are a professional who marked something by accident and needs to get rid of it on official documents. You may be a teacher who wants to mark up a textbook but cannot because it is belongs to the library. You could also have a classroom with small children who would like to start using highlighters but may make mistakes on the way. Whoever you may be, erasable highlighters are an innovation that can help you in many ways.
BIC Brite Liner Erasable Highlighter
Best erasable highlighter for office use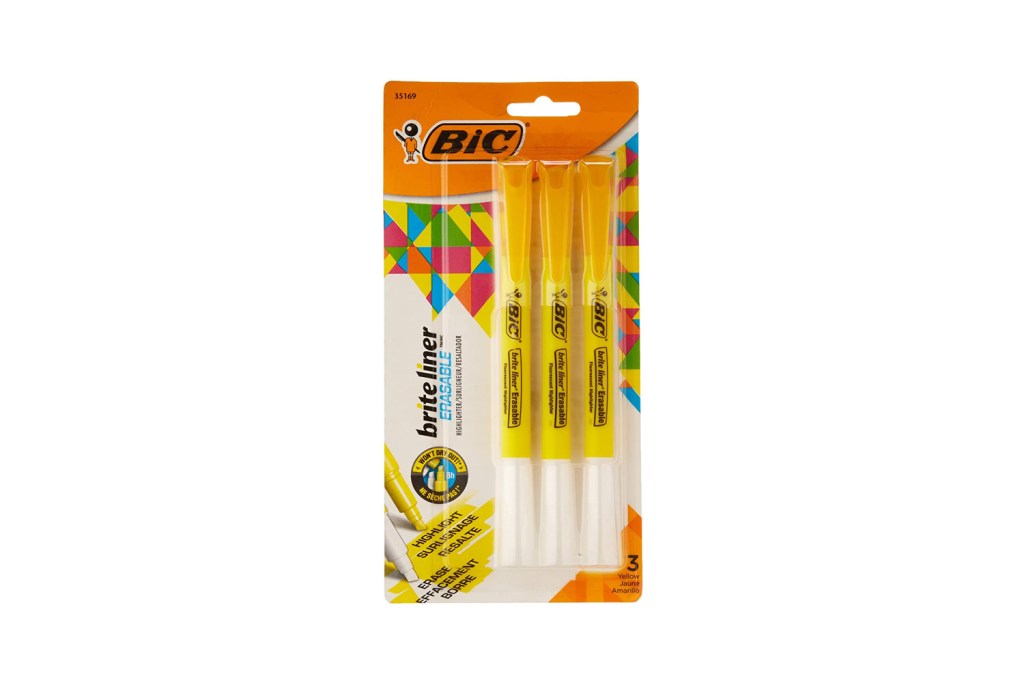 The BIC Brite Liner Erasable Highlighter is great to store in bulk in the office. This is a highlighter design that has stayed evergreen for a great reason. The thinner barrel makes for an easy grip without blocking the text you are highlighting. The two tips lets you mark your text precisely on one side and erase cleanly on the other. The bright fluorescent ink ensures that you will never miss a mark.
PILOT FriXion Erasable Highlighters
Best erasable highlighter for classrooms
Your students will love the PILOT FriXion Erasable Highlighters. These chisel-tipped highlighters come in many colors to keep your notes organized and beautiful. FriXion's thermo-sensitive ink formula makes for a clean and easy erase without worrying about tearing your page up, so you know that you can highlight your textbooks and notes freely. Whether on notebooks, planners, journals, or novels, you can always look like you highlighted it perfectly the first time.
Crayola Take Note Erasable Highlighters
Best erasable highlighter for teachers
Teachers will have a great time using Crayola Take Note Erasable Highlighters. They come in vivid colors and they have a chisel tip that can let them pick between a thicker or thinner line for marking and erasing. The tight snap-on seal makes sure that they stay ready to use for a long time. Apart from notes, teachers can use them to get creative in drawings with erased details for a very cool negative space effect.
These erasable highlighters bring a new facet to the previous note-taking habits available. We keep reaping the benefits of new technologies like this. Though it is not a new smartphone or a robot, it is still an innovation that benefits so many people even at such a small scale. Get yourself an erasable highlighter, and you will be happy that you did.
Editors' Recommendations